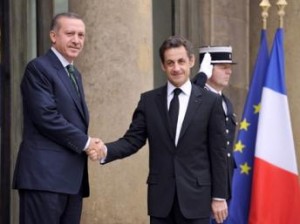 PARIS/ANKARA — French President Nicolas Sarkozy has sent a letter to Turkish Prime Minister Recep Tayyip Erdogan, asking him to refrain from excessive steps towards hampering the Senate's efforts to debate the Armenian Genocide denial criminalization bill.
"We perfectly realize what grief Turkey suffered as a result of World War I and the collapse of the Ottoman Empire. I know it is hard to admit what happened in the course of history," Sarkozy said, noting that his country had come to terms with such bitter truths as complicity in the slave trade and expulsion of Jews to concentration camps.
"I hope we can make reason prevail and maintain our dialogue, as befits allied and friendly countries," Sarkozy wrote, adding that the measure "is in no way aimed at any state or people in particular."
"Turkey is a big country and an important partner for France. I wish us both – as two partners and allies – to rely on friendship. I would like you to know that any excessive step in connection with this law would harm the two countries' multilateral relations, laying the entire burden of responsibility on them both, " reads the statement.
"No opinion, no letter will change our perspective regarding the matter," the "Today's Zaman" daily quoted Turkish Foreign Minister Ahmet Davutoglu as telling journalists in Ankara.
"We expect Sarkozy, his party, and the French Senate to respect European values before anything else. Those who exploit history will themselves suffer from this exploitation. We invite each French senator to stop for a while and think beyond all political interests," Davutoglu said, according to the AFP news agency.
"If the bill passes, it will remain as a black stain in France's intellectual history. And we will always remind them of this black stain," he warned.
Patrick Ollier, a French government minister in charge of relations with the parliament, indicated afterwards that the French government is unfazed by the possibility of more Turkish sanctions.