YEREVAN (RFE/RL) — Russia sent a large water-dropping aircraft to Armenia to help authorities there contain a massive wildfire in a forest southeast of Yerevan that raged for the third consecutive day on Monday.
The fire in the historic Khosrov Forest Reserve broke out on Saturday. Helped by an unusually hot and dry weather, it quickly spread to more than 200 hectares of land, threatening to engulf the entire state-protected area encompassing 9,000 hectares of forest founded by a 4th century Armenian king.
The Ministry for Emergency Situations scrambled to contain the blaze, sending dozens firefighters to the area. They were joined on Monday by over 200 Armenian army soldiers and police officers as well as hundreds of residents of nearby villages and volunteers from other parts of the country.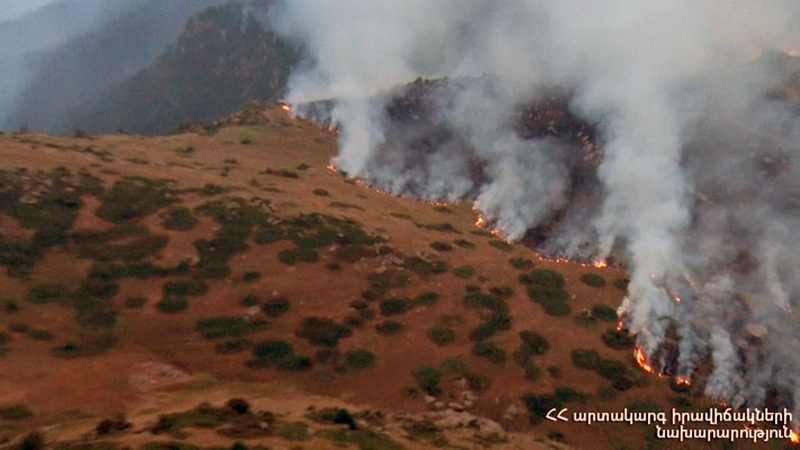 They continued to battle the fire as it burned down more trees on Monday afternoon, sending a thick smoke billowing skyward. Ministry officials complained that the Khosrov reserve's mountainous terrain is making is practically impossible for them to deploy fire engines.
An Armenian military helicopter was therefore called in to join the operation. Water dropped by it on burning trees provided insufficient, however.
Emergency Situations Minister Davit Tonoyan called his Russian counterpart Vladimir Puchkov to ask him for urgent assistance. Tonoyan's press office announced later in the day that the Russian Ministry for Emergency Situations will dispatch a special plane designed for dealing with forest fires.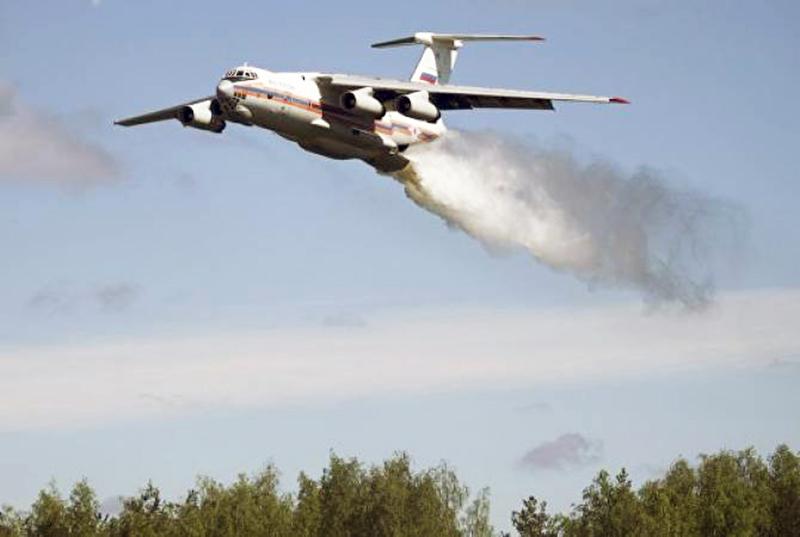 A statement by the office said the Ilyushin-72 plane can drop more than 42 tons of water and protect almost 5 hectares of land against flames during a single flight. Preparations are now underway to ensuring necessary water supply to the plane, added the statement.
The water-dropping plane arrived at the Erebuni airbase in Yerevan at 7 around p.m. local time.
"We hope that the plane will arrive and we'll extinguish the fire with its help," a senior official at the Armenian Rescue Service told reporters.
"This is a disaster, this is not an ordinary fire," he said. "I've worked in this area for many years and haven't seen a fire like this before."
Although Armenia has been affected by an intense heatwave for the last few weeks, law-enforcement authorities suspect that the Khosrov forest fire was the result of human negligence. The Investigative Committee launched a criminal inquiry under corresponding articles of the Armenian Criminal Code.
Another massive wildfire broke out near a village in the southeastern Vayots Dzor province last Thursday. It reportedly affected about 650 hectares of land partly covered with trees. Tonoyan's ministry announced on Monday that the fire has finally been contained with the help of army soldiers and policemen.