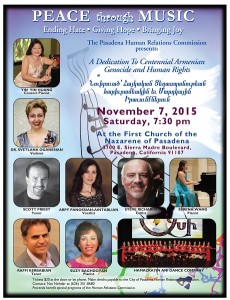 The Pasadena Human Relations Commission proudly presents it's 17th annual Peace Though Music concert a dedication to "Centennial Armenian Genocide and Human Rights".
The concert will take place on Saturday November 7, 2015, 7:30 PM- 9:00 PM at the First church of Nazarene of Pasadena, 3700 East Sierra Madre Blvd., Pasadena 91107.
This year multi-talented of National and International caliber Artists are taking part in this important concert to pay tribute to the CENTENNIAL ARMENIAN GENOCIDE AND HUMAN RIGHTS.
The Artists consist of: Scott Priest, National and International Tenor, Ying Ying Huang, concert pianist, Raffi Kerbabian, Tenor, Arpy Panossian-Aintablian, vocal, Suzy Baghdoyan, pianist, Dr. Svetlana Oganesian, violinist, Steve Richards, cellist, Serna Wang, pianist and famous and celebrated Hamazkayin Ani Dance Company.
"Everyone should attend this important concert and cause. This is an opportunity for everyone to unite on Saturday November 7th in honor of the Centennial Armenian Genocide and stand up for: peace, harmony, unity , love and Human Rights among all people." stated Pasadena Human Relations Commissioner and Event Chair Nat Nehdar, "May God bless the souls of all the Armenian Genocide victims in Heaven."
The Peace Through Music concert was founded in the wake of the shootings at Columbine High School in Littleton, Colorado on April 20, 1999, and has become an annual cornerstone for the City of Pasadena Human Relations Commission that allows us to find common bonds through music the universal language of love.
Tickets are $20 and can be purchased on the night of the concert at the church of Nazarene. You may also reserve your tickets by emailing your request to Nat Nehdar, at [email protected] or by calling 626-351-8680.