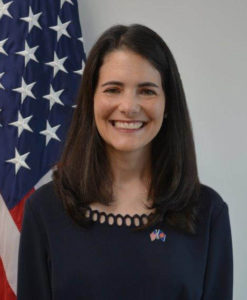 SAN DIEGO, CA – The organizing committee of the 5th Bridge to the Future Gala is pleased to announce that Her Excellency Nina Hachigian will be the Guest of Honor at the event on September 30, 2017. The gala is taking place at the picturesque Sheraton Hotel & Marina Bay Tower. The theme, "Carnival in Venice," sets the stage for an evening inspired by romantic Italy. The purpose of the event is to raise funds to construct a state-of-the-art church campus near Del Mar that will become the new spiritual and cultural home for the Armenian community of San Diego, as well as a destination for Armenians worldwide.
Ms. Hachigian served as the second U.S. Ambassador to the Association of Southeast Asian Nations (ASEAN) from 2014-2017. During her tenure, the United States established a strategic partnership with ASEAN, held the first Leaders' Summit in the United States, launched a Presidential initiative on economic cooperation and grew the youth program to over 100,000 members. She also was a founder of WASA, Women Ambassadors Serving America. She was awarded the Meritorious Honor Award for her Ambassadorial service.
Prior to that, Ms. Hachigian was a Senior Fellow and a Senior Vice President at the Center for American Progress focused on Asia policy, was the co-director of Asia policy for the Obama campaign, and was the director of the RAND Center for Asia Pacific Policy. In early August, Los Angeles Mayor Eric Garcetti appointed her as deputy mayor for the newly created Mayor's Office of International Affairs. Her late father, Dr. Jack Hachigian, lived in San Diego for many years and was a founding member of the Trust Fund Committee of St. John Garabed Armenian Church.
Dan Cohen, co-anchor of CBS News 8 This Morning and CBS News 8 at 11 a.m., will be the Master of Ceremonies and Auctioneer. Dan has been honored with three Emmy Awards for his exceptional journalism and is beloved throughout San Diego. It's Dan's second year hosting this event. He is a close friend of San Diego's Armenian community and a passionate supporter of the new church campus.
Notable chefs and restauranteurs from around San Diego will be serving some of their signature dishes as appetizers in stations during the cocktail reception. Guests will also be treated to a gourmet dinner with fine wines, live auction, entertainment by NRG Music & Production, celebrity guest vocalist, Monica Louwerens, $10,000 raffle prize, and more.
The Trust Fund Committee is organizing the event under the auspices of Parish Priest Very Rev. Fr. Pakrad Berjekian. The goal is to raise $150,000 to begin the construction of a new church campus near Del Mar, California. Table sponsorships are available for $10,000, $5,000, $3,000, $2,000 and $1,000, with generous donor benefits for each level. Individual tickets are $250 per person. A portion of the ticket price is tax-deductible.
To order tickets online or receive updates, visit www.stjohngarabed.org. Also look for "Bridge to the Future" on Facebook at https://www.facebook.com/BridgetotheFutureSD/ or @BridgetotheFutureSD. A special hotel room rate of $169 is available until 9/1/17 at the Sheraton Hotel and Marina Bay Tower. For reservations, call (619) 291-2900 and reference "Armenian Church of San Diego." For more information about Gala 2017, call (619) 884-8983.