WASHINGTON, DC — A dozen men who traveled with Turkish President Recep Tayyip Erdogan to the U.S. last month have been charged criminally for a high-profile attack on protesters in the nation's capital.
The Turkish guards were filmed May 16 breaking through a police line, then kicking and punching protesters who had been chanting "baby-killer Erdogan" as the authoritarian leader arrived at the Turkish ambassador's home.
The brutal assault, which sent nine people to the hospital was condemned earlier this month, with bi-partisan support in a House of Representatives that called for the prosecution of assailants.
Metropolitan Police Department Chief Peter Newsham announced the charges at a Thursday press conference, saying that "in the United States, and particularly in the District of Columbia, we hold our ability to peacefully protest as a sacred right."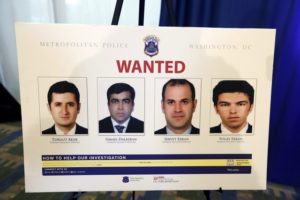 Newsham said arrest warrants for assault were issued for 12 Turkish citizens, including nine Turkish security officers and three Turkish police officers. He said police would like the public's help to identify additional assailants.
Two men were arrested in the United States. Sinan Narin, of Virginia was arrested in Virginia and charged with aggravated assault. Eyup Yildirim was arrested in New Jersey on charges of assault with significant bodily injury and aggravated assault. According to the New York Times, two Canadians were also arrested. The remaining eight men live in Turkey. According to AP, seven of the men face felony charges and five face misdemeanor charges.
The United States also revoked the visas of multiple guards, some of whom have not been charged.
"I want to commend the DC police department for acting bravely to protect protestors from a vicious assault, and applaud the decision to follow up with the filing of criminal charges. This sends an important message that while violence and repression have become the norm in Erdogan's Turkey, they remain unacceptable here. Bringing these thugs to justice will ultimately require the State Department to prioritize this issue with Turkey, and I will be urging them to ensure that those charged today face justice." Rep. Adam Schiff (D-CA) said in a statement.
Secretary of State Rex W. Tillerson said the charges should "send a clear message that the United States does not tolerate individuals who use intimidation and violence to stifle freedom of speech and legitimate political expression." He said the department was still determining what, if any, additional steps would be taken.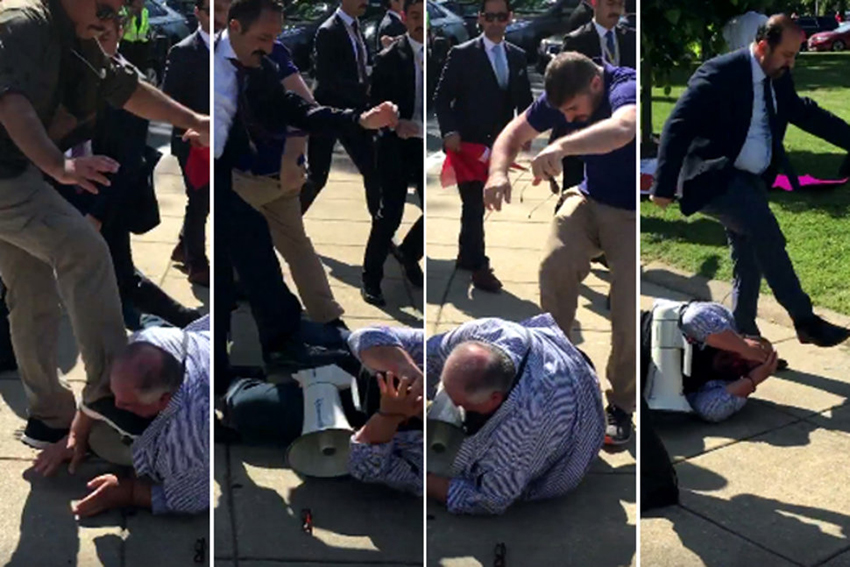 Erdogan lashed out at the United States on Thursday in brief but fiery remarks condemning the criminal charges filed here against his security personnel.
"What kind of a rule, what kind of a law is this?" Erdogan said, according to an account by Anadolu Agency, a state-run news service. "If those bodyguards would not protect me, why I am bringing them with me to the U.S.?"
Around the same time, Erdogan's government summoned John R. Bass, the American ambassador, to a meeting with officials from the Foreign Ministry in Ankara. They told ambassador Bass that the charges were "wrong, biased and lack legal basis," and blamed American law enforcement officers who had been on the scene, according to a statement provided by the Foreign Ministry.