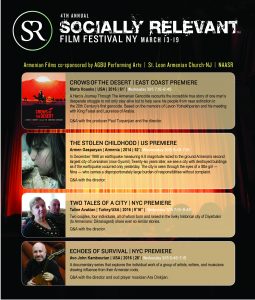 NEW YORK, NY – Four timely Armenian films focusing on culturally rich topics will be shown as part of the fourth edition of SR Socially Relevant Film Festival New York, running from March 13-19 at Cinepolis Chelsea and nearby venues.
One special evening during the festival will be dedicated specifically to these four films, Echoes of Survival, The Stolen Childhood, Two Tales of a City and Crows of Desert and will give audience members the opportunity to engage in dialogue with the directors and filmmakers who will be present.
A documentary series that explores the individual work of a group of artists, writers, and musicians whose work draws influence from their Armenian roots, Echoes of Survival, directed by Avo John Kambourian, focuses on how the Armenian culture has survived through artists and their work, notable renowned oud player Ara Dinkjian. Both Kambourian and Dinkjian will be in attendance during the screening with a post-screening Q&A.
Centering around the December 1988 earthquake that took the lives of 25,000 Armenians, The Stolen Childhood looks at the still damaged cities of Gyumri and Spitak through the eyes of a little girl whose only escape is her cherished violin, extracting from it the mystery of the soul's universe. Director Armen Gasparyan from Armenia will be in attendance at the screening with a post screening Q&A.
Two Tales of a City, directed by Talin Avakian, features two couples born and raised in the historical city of Diyarbakir, known to Armenians as Dikranagerd and follows them to 2015 when both couples are on the other side of the world reminiscing about their birthplace and early lives practicing their Armenian culture as an oppressed minority. Avakian herself travelled to Western Armenia in 2014 to document the villages and churches of her Armenian ancestors.
"Being in Dikranagerd, where my fiancee and his family are from, was a very surreal experience," said Avakian, who will be in attendance at the screening. The film documents significant places in Dikranagerd, such as the Sourp Giragos church. "We walked through the very same streets that his grandparent's walked through and worked on a few decades before. They were just as they had described."
"Today, however, Dikranagerd is not the same place. It is now dangerous and threatened by terrorist groups," said Avakian. "It is a sad yet fortunate reality to know that my film is now a piece of history."
Based on the memoirs of Levon Yotnakhparian, the documentary film Crows of the Desert: A Hero's Journey Through The Armenian Genocide recounts the true story of one man's desperate struggle to not only stay alive but to help save his people from near extinction in the first genocide of the 20th century. Translated by Victoria Parian from Armenian and edited and published by Levon Parian, an internationally recognized award winning photographer, the story follows Yotnakhparian as he joins the Ottoman military and finds himself in the middle of a genocide against his people, escaping through the desert and subsequently returning to save thousands of other stranded and orphaned Armenians. The film contains rare footage, photographs and documents that have been gathered from archives around the world to reveal a harrowing yet inspirational journey.
"Throughout my career I have tried to bring awareness of social issues into my work, so the SR Film Festival is especially relevant to me," said director Marta Houske, an Emmy-award winner for her historical documentaries, who will attend the screening along with Producer Paul Turpanjian.
"Many people have asked me why I have worked so intensely on a documentary about the Armenian Genocide, if I am not Armenian. My response is that once I started research for the documentary, I was shocked that I did not learn about the Armenian Genocide in school. I decided that it was my duty to create a documentary that tells Levon's story as well as educates people about the events of the Genocide."
"It is an honor to participate in this film festival because it is another chance for me to share my voice, history and culture with the world," said Avakian. "It is an even deeper honor for my work to be considered as socially relevant (™), as this is what I hope to achieve with all the stories I create."
The special evening dedicated to Armenian films will take place on Wednesday, March 15 at Cinepolis Chelsea (260 W. 23rd St. between 7th & 8th Avenues) in an event co-sponsored by AGBU New York Performing Arts, St. Leon Armenian Church – NJ and NAASAR. The opening reception is from 5 p.m. to 6 p.m. with the films to follow in two separate sessions. The first one, starting at 5:45 p.m., features Echoes of Survival and The Stolen Childhood and the second one, starting at 7:15 p.m. features Two Tales of a City and Crows of the Desert, and ending at 8:45 p.m.. The final screening of that evening is Charlie Chaplin's The Great Dictator preceded by a panel on Artists in Resistance. Although not part of the Armenian program, it is highly recommended as an irresistibly humorous and timely glance at power and world leaders today. All three sessions require separate tickets that may be purchased at www.srff2017.eventbrbite.com.
SR Socially Relevant Film Festival New York shines the spotlight on filmmakers who tell compelling, socially relevant human-interest stories, across a broad range of social issues. Founded by actress and filmmaker Nora Armani as a reaction to the proliferation of violence and violent forms of filmmaking, the festival has showcased 157 films from 33 countries during its first three years. The 4th edition will take place March 13-19, 2017 at Cinepolis Chelsea, The School of Visual Arts MFA Social Documentary Film and the Tenri Cultural Institute. This year's edition features a slate of 46 films from 23 countries, panels on Immigration and refugees, Violence against women, Low budget film production offered by SAG-AFTRA, filming in New York State offered by the Governor's Office for Film, AR/VR exhibit and panel offered by Samsung and film industry panels on funding film ideas and making dangerous documentary films. The award ceremony takes place on March 19 at the Tenri Cultural Institute where the winning filmmakers are compensated by award trophies designed and created by Micheal Aram, and a special scarf designed by Anet Abnous. In addition there are the Vanya Exerjian Empowering Women and Girls award in memory of Armani's cousin victim of a violent act of terror in Cairo thirteen years ago, and the Varoujan Storytelling award in memory of her father, Akribas EkserdjianOther awards include the Women Film Critics Circle Award for a film by a woman filmmakers, and InkTip and FinalDraft for scriptwriting. For more information on the festival's partners and sponsors, film details, venue addresses, and to purchase tickets, please visit www.ratedsrfilms.org