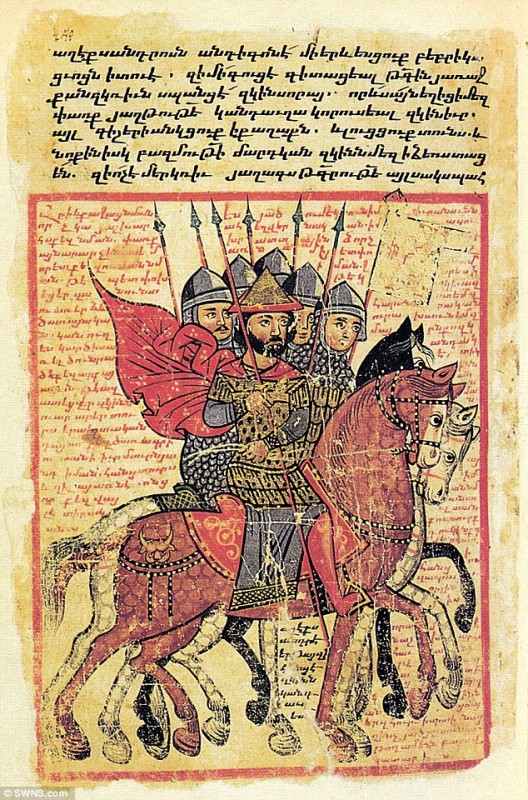 LONDON (Armradio) — The fabled last will and testament of Alexander the Great may have finally been discovered more than 2,000 years after his death.
A London-based expert claims to have unearthed the Macedonian king's dying wishes in an ancient Armenian text that has been 'hiding in plain sight' for centuries, The Daily Mail reports.
The long-dismissed last will divulges Alexander's plans for the future of the Greek-Persian empire he ruled.
It also reveals his burial wishes and discloses the beneficiaries to his vast fortune and power.
Evidence for the lost will can be found in an ancient manuscript known as the 'Alexander Romance', a book of fables covering Alexander's mythical exploits.
Likely compiled during the century after Alexander's death, the fables contain invaluable historical fragments about Alexander's campaigns in the Persian Empire.
Historians have long believed that the last chapter of the Romance housed a political pamphlet that contained Alexander's will, but until now have dismissed it as a work of early fiction.
But a ten-year research project undertaken by Alexander expert David Grant suggests otherwise.
The comprehensive study concludes that the will was based upon the genuine article, though it was skewed for political effect.
The revelation is detailed in Mr Grant's new book, 'In Search of the Lost Testament of Alexander the Great.'
He believes that Alexander's original will was suppressed by his most powerful generals, because it named his then unborn half-Asian son Alexander IV and elder son Heracles as his successors.
Rather than accepting the leadership of what the Macedonians saw as 'half-breed' sons, which would have been 'unthinkable', they fought each other for power in a bloody period of infighting and civil war known as the 'Successor Wars'.
It was in the decades following Alexander's death that Mr Grant now believes the original will was secretly rewritten and distributed in leaflet form by one of the competing generals to 'prove' the legitimacy of his own inheritance, as well as to damn the generals opposing him.