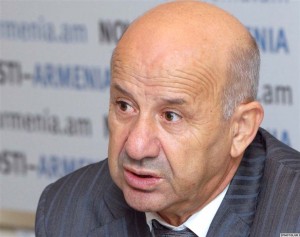 YEREVAN — The head of Armenia's National Service For Seismic Defense, Alvaro Antonian, has stepped down ahead of his trial on embezzlement charges, it emerged on Friday.
The Special Investigative Service (SIS) claimed in late December that Antonian pocketed 3.3 million drams ($9,100) from a French government grant that was used for building several seismic monitoring stations in the southeastern Vayots Dzor province.
The SIS said the grant worth 70,000 euros ($92,500) was provided to the Armenian earthquake-monitoring agency in August 2009 through a non-governmental organization headed by Antonian. He was charged under a Criminal Code clause carrying between four and eight years' imprisonment but avoided pre-trial arrest.
Antonian strongly denied the accusation at the time, saying vaguely that "personal motives" were behind the launch of criminal proceedings against him. Interviewed by RFE/RL's Armenian service, he indicated no plans to resign from his post.
According to Emergency Situations Minister Armen Yeritsian, Antonian has been relieved of his duties "in accordance with his own request." Yeritsian, whose ministry controls the seismic defense agency, reserved judgment on the merits of the criminal case.
The SIS has already sent the case to a court in Vayots Dzor. The court has yet to set a date for the start of the trial.
Earlier post – Head of Armenia's National Service for Seismic Defense Charged With Embezzlement: https://massispost.com/?p=1288