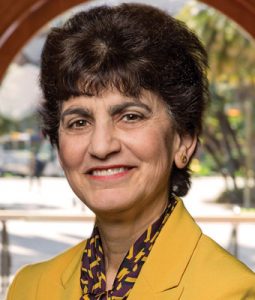 FRESNO — The Armenian Studies Program of California State University, Fresno, will hold its 29th Annual Banquet on Sunday, March 19, 2017 at the Fort Washington Country Club in Fresno and this year will celebrate the 40th anniversary of the Program.
Over the past 40 years the Program has educated thousands of students in areas of Armenian history, art, language, literature, and culture. The Program's faculty have achieved international distinction and the Annual Lecture series has brought diverse and interesting speakers to campus.
This year's Banquet will feature Dr. Mary Papazian, President of San Jose State University. Dr. Papazian, a leader with more than 25 years of teaching and academic experience, was appointed President on July 1, 2016. She most recently served as president of Southern Connecticut State University (SCSU) in New Haven, Conn. Born and raised in Southern California, Papazian holds a bachelor's, master's and Ph.D. in English from the University of California, Los Angeles (UCLA).
Fresno State President Dr. Joseph I. Castro will attend the Annual Banquet, which brings together Fresno State students, faculty, administrators, and the community, to celebrate the achievements of the Program and its students.
Student recipients of Armenian Studies scholarships and grants for 2016-2017 will be recognized at the Banquet. Students who are graduating with a Minor in Armenian Studies will also be recognized.
The reception will begin at 5:00PM followed by the Banquet at 6:00PM.
Tickets are available at $50 per person, with a special price of $25 for Fresno State students and Fresno State faculty. Reservations for tables of 10 are also being accepted.
For more information about the Banquet, please contact the Armenian Studies Program at 559-278-2669 or visit our website at fresnostate.edu/armenianstudies.