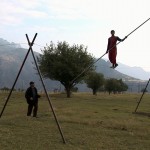 Two top Armenian documentaries – both award-winning human stories – are being shown on public television (PBS) in the US over the next two Sundays.
On Sunday October 17, Public Television stations around the country showed "The Last Tightrope Dancer in Armenia," a warm, thoughtful, beautifully-shot story about the dying art of tightrope dancers, and the continuing competition and camaraderie between two old masters, and the hopes they place on one young artist. This year in Golden Apricot film received The Best Armenian Film award, as well us "Best Feature Length Documentary" and special award for Search of Original Scenario of Nonfiction Film at the "Russia" Documentary Film Festival in Yekaterinburg. Film already has been shown on NHK (Japan), SVT (Sweden) and other European channels.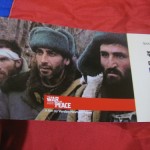 On Sunday October 24, the same public television stations will screen "A Story of People in War and Peace," a passionate film that follows the lives of soldiers and nurses who spent years in the trenches during the Karabakh war. The film has already screened on BBC, ARTE and other international channels, and has won over 20 awards including the FIPRESCI (International Federation of Film Critics) prize. For its director, Vardan Hovhannisyan, the film also garnered a Best New Documentary Filmmaker Prize at the Tribeca Film Festival in New York.
"The Last Tightrope Dancer" is the acclaimed work of two young filmmakers — Inna Sahakyan and Arman Yeritsyan. Both have produced several documentaries over the last decade. Sahakyan has directed more than 10 social documentaries for Armenian television and worked as assistant director on "A Story of People in War and Peace." Yeritsyan has directed a number of award-winning documentaries including, "Under the Open Sky" and "Goodbye Fellini."
Both films are produced by Bars Media, which was established by Vardan Hovhannisyan in 1993. Bars Media specializes in making documentaries about human stories, culture, history and other social issues. The studio currently develops documentary films in Africa, Russia and Afghanistan.
For broadcast schedules: http://www.pbs.org/itvs/globalvoices/broadcast.html