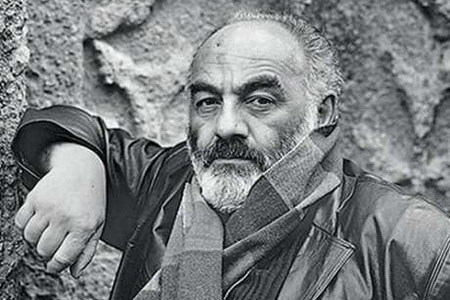 GLENDALE — Abril Bookstore's Armenian Film Society will screen Sergei Parajanov's classic film, The Legend of Suram Fortress on Friday, March 3, 2017 at 7:30 pm at Abril Bookstore – 415 E. Broadway, Glendale, CA. Admission is free.
The film will be presented by Karen Karslyan. This film screening is a prelude to the presentation of his new book, Aterazma: A Typographic Film, which will be held the following week at Abril Bookstore.
The Legend of Suram Fortress (1985, 88 min.) is about a fortress which is in a constant state of construction — that's because it's always crumbling just as they are about to complete it. To solve this mystery, a young man visits a fortune teller who offers a startling proclamation: For the fortress to stand, someone must be buried inside it. Soon enough, the young man realizes that this person is him.
Sergei Parajanov was born in Georgia to Armenian parents. After studying film and music, Parajanov became an assistant director at the Dovzhenko studios in Kiev, making his directorial debut in 1954. In 1964 he made Shadows of Forgotten Ancestors (1965), a rhapsodic celebration of Ukrainian folk culture, and the world discovered a startling and idiosyncratic new talent. He followed this with the even more innovative The Color of Pomegranates (1969), which explored the art and poetry of his native Armenia in a series of stunningly beautiful tableaux. But by this stage the authorities had had enough, and Paradjanov spent most of the 1970's in prison on almost certainly rigged charges of "homosexuality and illegal trafficking in religious icons". However, with the coming of perestroika, he was able to make two further films before succumbing to cancer in 1990.