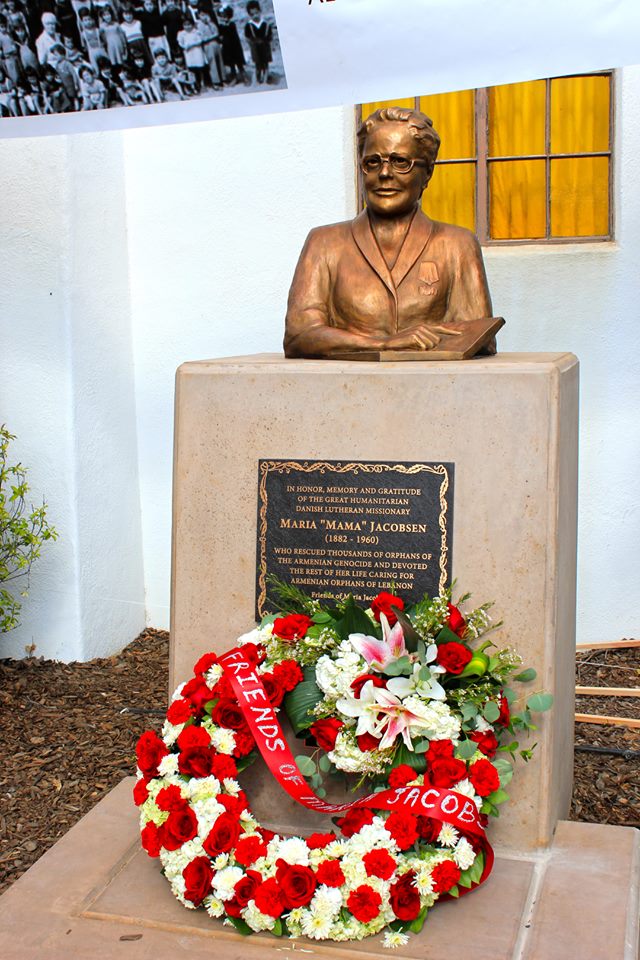 By Kevork Keushkerian
Maria Jacobsen (1882-1960) was a Danish Lutheran missionary who went to Kharpet, Turkey in 1907 and started to work with Near East Relief to save Armenian orphans from Ottoman Turkish atrocities. Her eyewitness accounts of the deportations and massacres of Armenians were published in her book entitled "Diaries of a Danish Missionary: Harput, 1907-1919."
Eventually, Maria Jacobsen took hundreds of orphans to Jebail, Lebanon (see picture) and continued to care for them in her Birds Nest Orphanage (9|yvx– 2xuv–), where she became known as "mama" for nearly four thousand orphans until her death in 1960. As she had requested, she was buried, at the entrance of her beloved Birds Nest Orphanage.
"Friends of Maria Jacobsen" presented a concert in her memory, under the auspices of all three denominations of the Armenian Church, which took place on Friday, October 21, 2016 at 7:30 p.m. at Glendale Presbyterian Church.
After the invocation by Armenian Church Leaders, opening remarks were made by Dr. Garbis Der-Yeghiayan, Chairman of the "Friends of Maria Jacobsen" Board. This was followed by a short video presentation, depicting highlights from the care that "mama" had lovingly extended to her adopted children.
The ISM Production's Chamber Orchestra was conducted by Maestro Sir Vartan Melkonian, Conductor of the Royal Philharmonic Orchestra, London, who had especially flown in for this occasion.
Maestro Sir Vartan Melkonian (see picture) was one of the orphans of "mama". He was brought up in the early '50s as an orphan in the Birds' Nest Orphanage until the age of eight. He then lived rough, along with thousands of other orphans like him, in the slums of Beirut, Lebanon.
In 1972, fleeing the civil war in Lebanon, he went to the United Kingdom and after working as a singer on several TV shows, he became a conductor of classical music in London's most famous halls conducting the Royal Philharmonic Orchestra, the London Symphony Orchestra and others, since 1985. His life is a true success story of "rags to riches."
In gratitude to the orphanage where he was looked after as a child, he established a children's charitable trust to inspire underprivileged children. Recently, he was honored by His Holiness Aram I, Catholicos of the Great House of Cilicia, with an encyclical and the "St. Mesrob Mashdots" insignia.
The musical program was composed of:
-Mozart's Symphony No. 40 (1st movement). 'The moon and I are Neighbors' by Lebanese composer and singer Rahbani & Feirouz, which was adapted and further composed by Vartan Melkonian.
-Beethoven's Symphony No. 6 (1st movement), a favorite of Maria Jacobsen.
-Norwegian composer Edvard Grieg's 'Holberg' Suite.
-'Armenian Folk Songs' from Komitas-Aslamazyan.
-A Symphonic Poem 'Farewell to Maria' (2nd movement) by Maestro Sir Vartan Melkonian.
This musical program was sheer ecstasy for classical music lovers, and a worthy tribute from a grateful orphan to his beloved care giver. After the musical program, Sir Vartan Melkonian was awarded an honorary Doctorate Degree by Dr. Garbis Der-Yeghiayan, President of Mashdots College.
But the best had yet to come from the "Friends of Maria Jacobsen" as on Sunday, October 23, 2016 at 11:00 a.m., a special reception was held and Maria Jacobsen's bust was unveiled at the courtyard of Bethania Lutheran Church in Solvang, California( see picture ).
Solvang is a beautiful enclave of the local Danish community just outside of the coastal city of Santa Barbara, California.