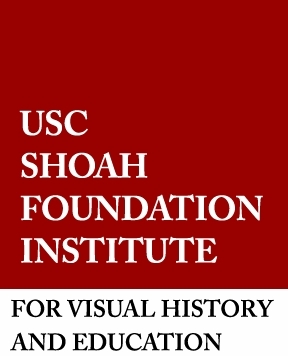 ORANGE, CA — Chapman University's Leatherby Libraries is partnering through ProQuest with the Visual History Archive (VHA) from USC Shoah Foundation to offer a fully streaming video collection of 53,000 primary-source testimonies of survivors and witnesses of genocide, the University and USC Shoah Foundation jointly announced today.
"Chapman is the first institution in California to purchase the Visual History Archive perpetual access license (PAL) via ProQuest," said Charlene Baldwin, dean of the Leatherby Libraries. "The VHA is one of the largest digital collections of its kind in the world, with interviews conducted throughout 63 countries and in 41 languages, providing students and scholars with unedited, personal narratives of life before, during and after the interviewee's experience with genocide. The collection includes testimonies from the Holocaust, the Genocide Against the Tutsi in Rwanda, Nanjing Massacre, Armenian Genocide and Guatemalan Genocide."
Access to the digital archive in its entirety is available through live-streaming 24/7 to all Chapman University students, faculty and staff. The Leatherby Libraries subscription was substantially supported by Chapman's Rodgers Center for Holocaust Education.
"The Visual History Archive is a truly unique and extraordinary resource for education and research," said Marilyn Harran, Ph.D., director of the Rodgers Center and Stern Chair in Holocaust Education at Chapman. "To date, relatively few academic research institutions and museums could provide full access to the entire Visual History Archive, and previously, that access was only available to users actually located on the campus of the participating universities or museums. We can now offer members of the Chapman community access whether they are on campus or off—and we are especially proud that we are the first university in California to subscribe through ProQuest. The Archive is an unparalleled resource to students and faculty in many fields, but particularly to undergraduates studying the Holocaust and to graduate students in our new M.A. program in War and Society in the Department of History. The purchase of the perpetual license is yet another demonstration of Chapman University's commitment to research."
The unedited video archive provides multiple pathways to learn from the eyewitnesses of history across time, locations, cultures and sociopolitical circumstances. Within the archive, there are nearly 700,000 images (photographs, documents and works of art), more than 2,500 recitations of literary works (poems, letters and diaries), and more than 2,100 musical recitals (singing of wartime songs or playing of instruments). The length of each testimony averages about two hours, though actual run times vary widely.
The Visual History Archive is fully searchable, with each testimony indexed and hyperlinked to the minute. This allows students, professors, researchers, and others to retrieve whole testimonies and segments within testimonies related to their area of interest through a set of 63,000 indexing terms, 1.8 million names, and 683,000 images.
The digitization of the tens of thousands of interviews – many of which took place in the 1990s and were originally recorded on VHS and Beta tapes, was a massive undertaking, but it has made possible access by many more scholars. "As recently as 2002, just four educational institutions had full access to the Visual History Archive," said USC Shoah Foundation Executive Director Stephen Smith. "It took us 13 years to get to our current number of 54 subscribing institutions. Now, with our partnership with ProQuest, we are poised to quadruple our current number within two years, and project a tenfold increase by our 25th anniversary in 2019. And that is just the beginning."