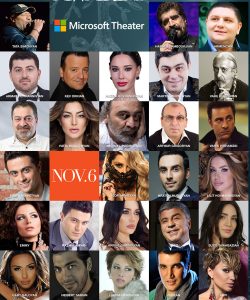 LOS ANGELES — The Armenian Diaspora and the collective performing arts world will experience 2016's quintessential cultural event of the year when the red carpet rolls out for the "2016 Pan Armenian Entertainment Awards" at the Microsoft Theater in Los Angeles, California on Sunday, November 6, 2016.
Organized by the Global Arts International in association with PanArmenian Media Group, the "2016 Pan Armenian Entertainment Awards" will be the first event of its kind, honoring and awarding artists from every corner of the world for their labor of love in the fields of music, film, television, media and fashion.
An assortment of scintillating performances from superstars around the world will outline the festivities.
With a dispersed Diaspora, the mission of the "2016 Pan Armenian Entertainment Awards" is to encourage the preservation of culture and history—both historic and contemporary—by bridging the national and international gaps between generations.
This further will be evidenced as the "2016 Pan Armenian Entertainment Awards" will feature a first-rate roster of celebrities, luminaries and icons for the honorary evening. The "Who's Who" list of respected and renowned personalities and faces from yesteryears and today will be present.
"The Pan Armenian Entertainment Awards is a unique platform for uniting Armenia and the Diaspora," said Davit Avetisyan, the director for PanArmenian TV. "The event will showcase jazz, rock, pop and other popular genre performances from the world's most famous Armenian performers in an energetic concert-like environment."
"The '2016 Pan Armenian Entertainment Awards' is unique, and the first event of its kind," says Garbis Titizian, Founder of Global Arts International and the brains behind the benevolent undertaking aimed at promoting and preserving cultural unity and identity. "Performing arts manifest within an individual, community and nation. Our mission is to associate the new generation with their Homeland, who have spent a significant portion of their lives away from it. As the leaders of our community humbly have accepted our invitation for this momentous night, our creative and production teams promise to deliver on this once-in-a-generation occasion."
The awards ceremony will be held at Microsoft Theater, located in the world famous L.A. Live entertainment complex in Downtown Los Angeles. It will be broadcasted by PanArmenian TV in the United States, and Armenia TV and Armenian Public Television in Armenia. Additional satellites, made available by Panarmenia,and H1 will be available in Europe, South America, Canada, Mexico, as well as online. An expected 10 million viewers are slated to tune-in.