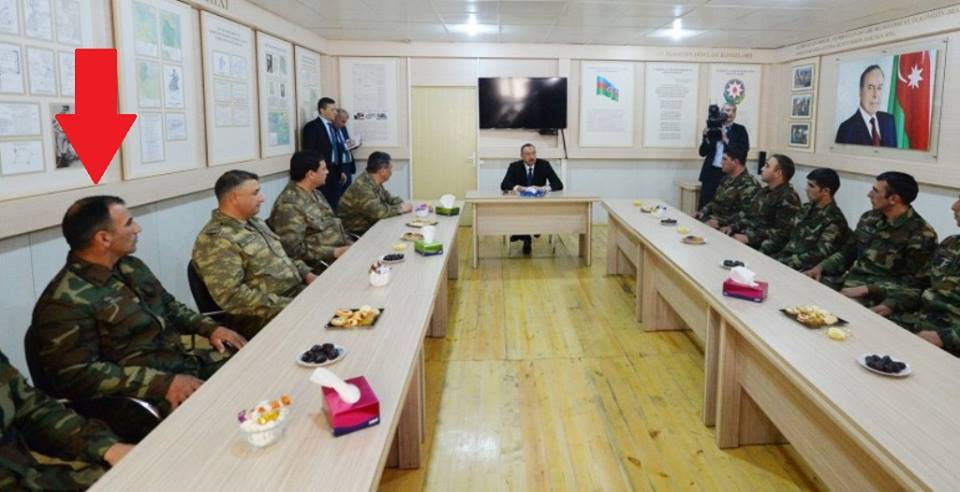 BAKU (Armradio, RFE/RL) — Azerbaijani President Ilham Aliyev has awarded the serviceman, who beheaded Karam Sloyan, private of the NKR Defense Army.
Aliyev handed in the award as he visited frontline Azerbaijani troops and civilian settlements close to the "line of contact" around Karabakh over the weekend. He was accompanied by his spouse Mehriban Aliyeva.
Stronger Pressure On Armenia
Aliyev pledged to step up "diplomatic, political and economic pressure" on Armenia with the aim of restoring Baku's control over Nagorno-Karabakh and Armenian-controlled districts surrounding it.
He again blamed the Armenian side for the April 2 outbreak of heavy fighting there. He claimed that the Azerbaijani army went on a counteroffensive in response to Armenian "armed provocations."
"Azerbaijan's territorial integrity must be restored," Aliyev told military personnel in the Terter district bordering northeastern Karabakh. "Nagorno-Karabakh and the other occupied lands are our historical territory."
"We will try to convince Armenia through negotiations," he said, according to Azerbaijani news agencies. "We will increase diplomatic, political and economic pressure and reinforce our positions on the Line of Contact."
"If the Armenians again resort to an armed provocation against us, they will get an appropriate response and the outcome will be the same because the Azerbaijani army is now one of the strongest in the world," he added.
Aliyev claimed that the United States, Russia and France — the three world powers trying to resolve the Karabakh conflict — are now exerting "serious pressure" on Armenia because it has been obstructing a peaceful settlement.
Armenian Foreign Minister Edward Nalbandian claimed the opposite during a visit to Finland on Monday. Nalbandian argued that Aliyev and other Azerbaijani leaders have repeatedly lambasted the mediating powers for not pushing for Karabakh's return under Azerbaijani rule and proposing instead confidence-building measures that would bolster the ceasefire regime.
"Having failed in negotiations, Azerbaijani tried a military option and failed in that endeavor as well," Nalbandian said in a speech delivered at University of Helsinki.