NEW YORK — The past six months have brought an unprecedented wave of support for Syrian Armenians on the part of the global AGBU community. Since 2012, AGBU has raised $3.2 million in support of the AGBU Humanitarian Emergency Relief Fund for Syrian Armenians living both in Syria and restarting their lives abroad.
Donations have helped distribute food and aid; provide medical services and equipment; offer educational and children's programs; and deliver displacement support. Thanks to the generosity of AGBU members and friends, emergency aid has been provided to more than 3,000 families in Syria, including food packages of cereal, cooking oil, dry meat, eggs, milk and baby formula; close to 400 patients have been treated and more than 50 major medical procedures performed for wounded Armenians; tuition reimbursement scholarships have been given to close to 400 Syrian Armenian students studying in Armenia and full scholarships offered to Syrian Armenian students studying at AGBU schools in Lebanon and Montreal.
At the heart of the AGBU relief efforts is the #ICareICan campaign, which has encouraged the idea that even the smallest initiative can make a big difference. "These types of grassroots campaigns are not only essential to raising funds, but also to helping raise awareness of AGBU's relief efforts in support of the tens of thousands of Armenians impacted by the devastation in Syria. We're so grateful to see that the #ICareICan campaign has galvanized people of all ages and sparked countless acts of kindness and generosity," said Karen Papazian, Director of Development and Outreach at the AGBU Central Office.
The #ICareICan campaign, begun on AGBU's social media platforms, has galvanized AGBU members and chapters worldwide to do their part in contributing to the fund in their own ways. All participants in the campaign are asked to take a picture holding a sign that reads #ICareICan and post it on their personal Facebook, Twitter and/or Instagram pages with a message explaining what they have done for the cause. Pledges have ranged from donating money normally spent on coffee to organizing a community fundraising event.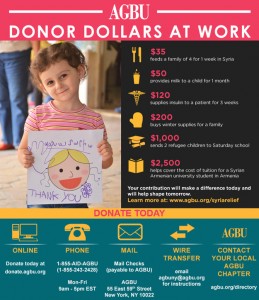 The spirit of giving embodied in the #ICareICan campaign led AGBU chapters to hold fundraising events that bring the community together in support of the cause. One example is AGBU Sofia's November 28th charity ball at the Sheraton Sofia Balkan Hotel. The event, all the proceeds of which went to the AGBU Humanitarian Emergency Relief Fund for Syrian Armenians, was attended by many notable guests, including Vice Foreign Minister of Bulgaria Hristo Angelichin; Ambassador of the Republic of Armenia to Bulgaria Arsen Shoyan; Ambassador of Syria to Bulgaria Nadra Sayaf; and many AGBU Sofia supporters. The evening raised money by auctioning the paintings of Bulgarian Armenian artists, including those of the late Edmond Demirdjian, Onnik Karanfilian, Luisa Medzikian and Arshak Nersisyan, and selling the jewelry of Jacklin Hugasyan.
AGBU schools have also taken the #ICareICan message to heart. In the fall of 2015, the AGBU Alex Manoogian School's program to welcome Syrian Armenian refugees received unprecedented coverage in Canadian and international media. The school is one of the few in Quebec to have a hands-on program to integrate Syrian Armenian refugee children and devise an educational model to help them succeed academically through training in French and English alongside their native Armenian.
The media attention from France24, Radio-Canada, Journal de Montréal, Radio de Québec, Journal de Québec, Huffington Post, and Journal Métro led many non-Armenians to donate their time and money to help the program's mission, which was lauded, mostly notably, by Quebec's Minister of Education in the provincial National Assembly. "Our classes are filled with Syrian children who are suffering from post-traumatic stress. But that hasn't prevented many among them from later becoming the first in their class. The best remedy for their pain is education," said Principal Sébastien Stasse.
The AGBU community has also shown its creativity in organizing events for Syrian relief. On November 21, the AGBU Central Office in New York held a spinathon. Thirty-three spinners joined the event and appealed to their friends and family to sponsor them to participate in a spin class at a downtown gym. Together they raised more than $75,000. The New York spinners were joined by counterparts in Los Angeles and Montreal. The New York spinathon inspired YP London to organize two events in February, donating all the proceeds to the Syrian relief.
The relief efforts have also helped Syrian Armenians restart their lives abroad. On January 27, the AGBU Young Professionals of Toronto (YP Toronto) organized a job fair for over 200 Syrian Armenian refugees at the AGBU Centre in Toronto. Canada has been in the spotlight with the resettlement of over 20,000 refugees from Syria, among them many Armenians. The Armenian community in Canada, most in Toronto and Montreal, has quickly mobilized resources to sponsor hundreds of Armenian families. Sponsorship of refugees entails commitments from temporary housing to providing basic assistance with paperwork, job search and a range of settlement issues.
For more information about the AGBU Emergency Humanitarian Relief Fund for Syrian Armenians and to donate, please visit http://www.agbu.org/syriarelief/.