YEREVAN (RFE/RL) — Fighting along "the line of contact" around Nagorno-Karabakh reportedly continued unabated after Saturday's Armenian-Azerbaijani summit in Switzerland which international mediators hoped will deescalate the Karabakh conflict.
Karabakh's Defense Army said on Monday that Azerbaijani forces fired on its frontline positions from not only mortars and rocket systems but also tanks and 122-milimeter howitzers over the weekend. It said its troops suffered no fresh casualties and responded with unspecified "punitive actions."
According to the Azerbaijani Defense Ministry, one Azerbaijani soldier was killed on Saturday. The ministry alleged 88 instances of Armenian ceasefire violations on the following night involving mortars and heavy machine guns. It said the Azerbaijani army carried out 97 "strikes" in response.
Fighting in the conflict zone intensified several days before Presidents Serzh Sarkisian and Ilham Aliyev met in Switzerland's capital Bern for the first time in over a year. At least 5 Azerbaijani soldiers were killed from December 13-19 alone.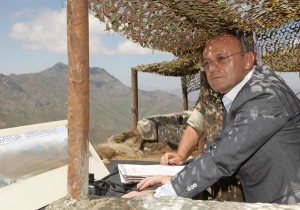 The Armenian military has suffered 7 combat deaths so far this month. The Armenian parliament observed on Monday a minute of silence in memory of those soldiers.
"If things continue like this, then punitive and coercive actions by the Defense Army will become tougher," Armenia's Defense Minister Seyran Ohanian told Karabakh television after inspecting Armenian frontline positions at the weekend. He said Karabakh Armenian forces are already taking "preemptive measures" against the enemy.
"I can see that the Defense Army personnel are in a combative mood today in order to show the opposite side that punishment will be inevitable if they don't behave themselves," said Ohanian. "Our people can rest assured that the situation is under control."