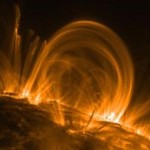 The Cosmic Ray Division (CRD) of the Yerevan Physics Institute registered the first violent solar eruption of the 24th Solar Cycle on its cosmic ray monitoring
The sun unleashed its strongest solar flare in nearly five years on Feb 15, 2011, sending a massive wave of charged particles toward Earth. The Coronal Mass Ejection (CME), a huge cloud of charged particles, reached the earth in approximately 3 days triggering a sizeable geomagnetic storm and a deep Forbush decrease (Fd). Fd is a rapid decrease in observed galactic cosmic ray intensity following a CME arrival. A variety of cosmic ray particle detectors at the Aragats Space Environmental Center (ASEC) in Armenia and the Space Environmental Viewing and Analysis Network (SEVAN), a worldwide network, registered the Fd in minute detail.
For more information on the Cosmic Ray Division visit www.crdfriends.org.