GLENDALE — The Armenian Society of Los Angeles has announced the acceptance of a $4.5 million donation from Mrs. Ludovica and Dr. Agop Aintablian, including $1.9 million to pay the balance of the mortgage owed on the Society's five-year-old building in Glendale.
According to the donors' wishes, the balance of approximately $2.6 million will be held in an irrevocable charitable remainder trust for the life of Mrs. Ludovica Aintablian, and subsequently will be used by the ASLA to advance and support cultural, humanitarian and educational activities in the local Armenian community.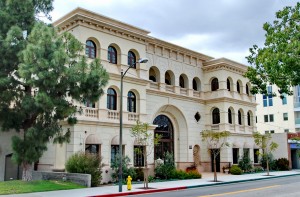 In honour of the benefactors, the Armenian Society of Los Angeles has named the building of the Society "Ludovica and Agop Aintablian Center".
Joining in the official announcement at ASLA's 59th anniversary ball in November were Arsen Danielian, Esq., Chairman of the Board of Trustees; Tomik Alexanian, member of the Board of Trustees and COO; and Hovik Gabikian, President of the Executive Committee.
"On behalf of the Armenian Society of Los Angeles, we express our deepest appreciation to Ludovica and Agop for their generosity and confidence in our organization," Danielian said. "We take great pride in accepting this donation and will take exceptional care in carrying out their wishes. First and foremost, will be maintaining the long tradition of the Armenian Society of Los Angeles to continue good relations with all segments of the Armenian community."
Prior to selecting the Armenian Society of Los Angeles, the couple conducted lengthy research "to find the most suitable organization which serves the needs of the local Armenian community, while also participating in programs that benefit families in Armenia."
Dr. Aintablian added, "We feel that the Armenian Society of Los Angeles is the best organization to accomplish both of these goals."
Established in 1956, The Armenian Society of Los Angeles, with more than 1,000 active members, is an independent and autonomous cultural and non-profit charitable organization, which does not pursue political or religious activities. The Society pursues cultural and charitable goals to preserve and develop the Armenian culture and relative traditions and promote good citizenship of the United States. Serving the Armenian people and Armenia being its main purpose, the Society also collaborates with institutions and establishments both in the U.S. and in Armenia.
Among the numerous benevolent activities, the main functions of the Society include: a Saturday School with about 100 students ranging in age from 6 to 15; a choir with more than 85 members, headed by internationally renowned Maestro Mikael Avetisyan; folklore dance classes; a women's chapter; youth and art chapters; an extensive Armenian library; and Save-a-Child Educational Fund in Armenia.
Top photo (L-R): Arsen Danielian, Tomik Alexanian, Mrs. Ludovica and Dr. Agop Aintablian