YEREVAN — The Armenian National Assembly voted 104 to 10 with 3 abstentions today to put the package of Constitutional amendments proposed by President Serzh Sarkisian on a referendum later this year.
The constitutional amendments package would introduce the parliamentary system of government in the country after Sarkisian completes his second and final presidential term in 2018. The vote followed heated debates that pitted the parliament's pro-government majority against a handful of opposition lawmakers accusing Sarkisian of trying to "perpetuate" his rule.
The amendments drafted by a special presidential commission were backed by deputies from not only the ruling Republican Party of Armenia (HHK) but also the Armenian Revolutionary Federation (Dashnaktsutyun) and the Prosperous Armenia Party (BHK), until recently a fierce critic of the constitutional reform. Also voting for them were several deputies nominally representing other opposition parties. Three members of the Orinats Yerkir faction abstained, two others voted no.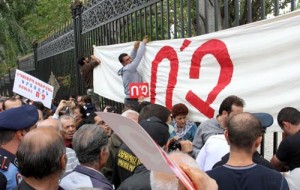 No Front coalition protest
The parliamentary hearing was accompanied by protests outside the National Assembly. A number of citizens were detained.
"From now on, our main objective will be tocampaign for a 'no' vote in the referendum," the HAK's parliamentary leader, Levon Zurabian, told about 100 people who gathered outside the parliament compound in Yerevan to protest against the vote. "These constitutional changes are a crime against the state," he said.
The small crowd scuffled with riot police after hanging a huge "No" banner on a metal fence surrounding the compound. Police detained 21 protesters as a result. All of them were set free later in the day.
Legal experts from the Council of Europe's Venice Commission largely endorsed the draft amendments last month after most of the changes in the text recommended by them were accepted by the Sarkisian administration. In a September 11 report, they said that the amendments are now "in line with international standards."