PARIS — On July 4, Hovik Abrahamian, Prime Ministers of Armenia, and Manuel Valls, Prime Minister of France attended the opening ceremony of new Armenian college in Alfortville. The event was also attended by French National Assembly Speaker Claude Bartolone, Armenia Education and Science Minister Armen Ashotian, Minister of Diaspora Hranush Hakobian, Minister of Agriculture Sergo Karapetian, Deputy Foreign Minister Karen Nazarian, members of French Parliament, the ambassadors of the two countries, the Mayor of Alfortville, SD Hunchakian Party Centeral committe chairman Hagop Dikranian, Member of Lebanese Parliament Sebuh Kalpakian (SDHP), Armenian community representatives and clergy.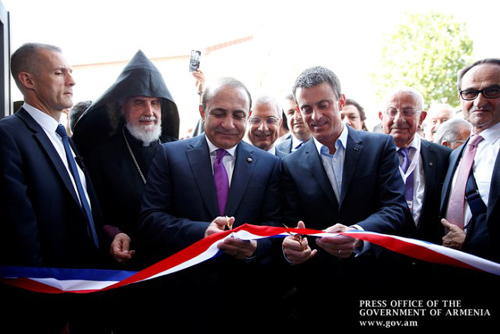 On this occasion Armenia's Prime Minister Abrahamian granted a Commemorative Medal of the RA Prime Minister to benefactor Kevork Arabian for his notable contributions to the construction of the school, as well as to the development of Armenian culture and preservation of the Armenian identity.
In his speech at the event, French Prime Minister Valls stated the following: "I'm happy to be in Alfortville today and to participate in the opening of an Armenian school since the opening ceremony is a very important moment for France. It indicates the presence of youth and the preservation of national values." He mentioned that France would always support the youth since they are the inheritors of the country.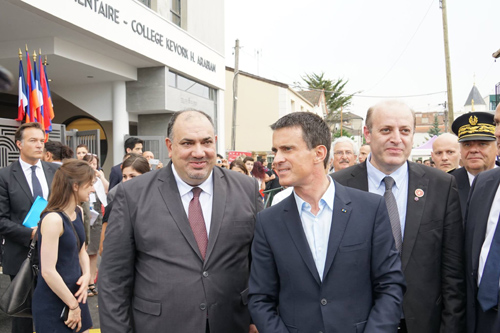 Kevork Arabian Armenian school project was conducted by The APCAF (Association for the Promotion of Armenian Culture in France), in partnership with the Alfortville Municipality. Archbishop Norvan Zakarian former Primate of French Armenian Church diocese was instrumental in the establishment of the school.
Arabian school is a private school under contract. It covers 1,585 square meters and is built along the Seine. It will open its doors in September 2015 with 300 students from elementary school with a view of opening a college in the future.