MIAMI – Garo Yepremian, the former NFL kicker who helped the Miami Dolphins win consecutive NFL championships died of cancer on Friday at the age of 70.
Yepremian's wife, Maritza, said he died at a hospital in Media, Pa. His illness was diagnosed in May 2014, she said.
Yepremian was born in Larnaca, Cyprus to Armenian parents. Yepremian and his brother Krikor, who attended Indiana University on a soccer scholarship, emigrated to the United States. Garo, who had earlier played professional soccer in London, was not eligible to play NCAA soccer. After watching some of a football game on television, he decided to pursue an NFL career. With Krikor acting as his agent, he earned a contract with the Detroit Lions becoming first "soccer-style" kicker in NFL.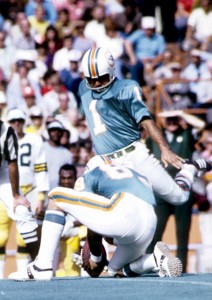 Yepremian played from 1966 to 1981, kicking for the Detroit Lions, the Miami Dolphins, the New Orleans Saints and the Tampa Bay Buccaneers. In 1966, he kicked six field goals for the Lions in a game against the Minnesota Vikings, he won two Super Bowls with the Dolphins.
Yepremian's most remembered moment came during Super Bowl VII in 1972. With Miami leading, 14-0, the Washington Redskins blocked a field goal attempt by Yepremian, who then picked up the ball and tried to throw it, but fumbled. Washington's Mike Bass caught the ball and ran it 49 yards for a touchdown. The Dolphins went on to win, 14-7, at the L.A. Memorial Coliseum, but the play continued to haunt Yepremian for the rest of his life.
"Every airport you go to, people point to you and say, 'Here's the guy who screwed up in the Super Bowl,'" Yepremian said in a 2007 interview. "After a while it bothers you. If it was anybody else he would go crazy, but fortunately I'm a happy-go-lucky guy."
Private funeral arrangements are pending. A viewing is planned Wednesday in Wynnewood, Pa.