YEREVAN — Line Knudsen doesn't have a single drop of Armenia blood. So what could possibly make her want to volunteer in Armenia – not once, but twice? Her childhood friend Tatevik Revazian of course! Line, 24, and Tatevik grew up in the same neighborhood of Kastrup, just outside Copenhagen, and became best friends. Through Tatevik, Line discovered more than all things Armenian; she discovered a burning interest in learning more; she dreamed of visiting Armenia, a country most Danes had never even heard of until this year's Eurovision contest; she even dreamed of learning the language!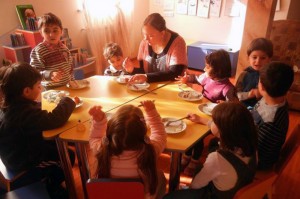 In 2008, Line's dream came true. She came to Armenia with Tatevik and her family and had a very personally rewarding experience that included lots of sightseeing, but also lots of time spent with Tatevik's extended family; she delighted in exploring beautiful natural and historic sites and savoring the wonderful hospitality and foods. At the end of that trip Line promised herself that she would definitely return, but for longer the next time. Line did just that in 2011. She came to Armenia for three months as a volunteer with Armenian Volunteer Corps (AVC). She was just starting her social work studies at the time and she tells us that the different experiences she had as a volunteer in Armenia inspired her, enabling her to decide on the specifics of her studies. They also helped her discover her self-reliance and determination, and hone her openness and flexibility. And she got to study Armenian together with other AVC and Birthright Armenia volunteers.
Back in Denmark, always active Tatevik, a business school graduate, had a vision of connecting Armenia to Scandinavia. She founded a new organization, AmStream.net, whose mission is to create an innovative pipeline for streaming opportunities and principles between Armenia and Scandinavia in the fields of business, education, science and culture. And of course Line has been an active member of that organization from the outset.
Flash forward to 2014. Line is nearing the end of her studies and can now do an internship abroad – and she has chosen to return to Armenia with AVC. Her next "big Armenia experience", as she calls it, will center on her professional internship as a social worker working with special needs children; it will be an opportunity for her to gain some valuable real experience in her field.
But knowing Line, it will most certainly be so much more.
******
Armenian Volunteer Corps (AVC) is Armenia's leading volunteer organization based in Armenia, customizing job placements for some 550 global volunteers aged 21 and up and working to create a connection between people around the world and Armenia. AVC volunteers have hailed from the four corners of the world – 35 countries to date – with the oldest so far a dynamic 72 years old! In addition to placements, AVC provides all logistical support from airport pick-up, to host-family living arrangements, Armenian language classes, and more, in partnership with its sister organization Birthright Armenia. [For more information, visit www.armenianvolunteer.org]
Photos:
Line, Tatevik and AmStream at work in Copenhagen
Line Knudsen in 2011, at one of her AVC volunteer placements in Armenia, Ghoghanj Children's Center