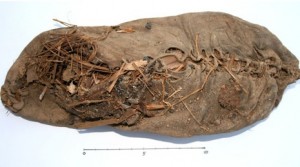 The U.S.-based Parade magazine has listed the 5,500-year-old leather lace-up moccasin discovered in Armenia among the most amazing discoveries of 2010.
"An international team of archaeologists discovered what's thought to be the world's oldest leather shoe in a cave in Armenia. Thanks to the cave's cool, dry conditions, the 5500-year-old leather lace-up moccasin (about a woman's size 7) was so well-preserved that even its laces were intact," the magazine writes.
"Among the standouts from 2010: the six-foot-long, yellow-and-black Northern Sierra Madre Forest Monitor Lizard, a timid relative of the Komodo dragon that eats fruit and lives in treetops in the Philippines, and the Caquetá titi (above), a cat-size, red-bearded monkey found in the jungles of Colombia. Unlike most monkeys, the titi mates for life and purrs like a kitten when cuddling," the article reads.
"Linguists on an expedition to a remote area of northeastern India were stunned to find the villagers communicating in a completely unfamiliar tongue. Koro, which is used by only about 800 people, may have been overheard just in the nick of time: Few young people speak only Koro, and it has no written form, so it could easily join the several thousand languages expected to die out this century," the magazine reports.