YEREVAN — The Monastery of Bardzrakash St. Gregory in Dsegh, Armenia is among the 11 monuments and sites shortlisted for 'The 7 Most Endangered' 2014 program of the leading European heritage organization Europa Nostra and the European Investment Bank, reports Armradio.com
This monastic complex, dedicated to St. Gregory, the first official head of the Armenian Church, dates from the 10th to the 13th centuries. Situated in the cultural landscape of the village of Dsegh, deep in a verdant gorge, the stone structures of the main buildings lie in ruins, without roofs, and encroached on by vegetation.
The rehabilitation of the monument would help establish Dsegh as a centre for tourism and boost the local economy. However, it can only be accomplished with international expertise and support. The Ministry of Culture of the Republic of Armenia nominated the monument for 'The 7 Most Endangered' 2014.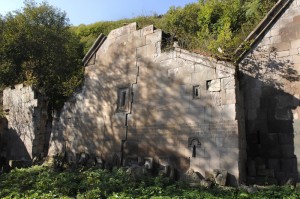 This year, civil society organizations and public bodies from all over Europe submitted their nominations. Eleven sites were shortlisted by an international panel of specialists in History, Archaeology, Architecture, Conservation and Finance. The final list of 7 sites will be selected by the Board of Europa Nostra. 'The 7 Most Endangered' for 2014 will be unveiled at a press conference on 5 May at the House of Europe in Vienna by high-level representatives from Europa Nostra and the EIB Institute.
11 European sites shortlisted for 'The 7 Most Endangered' program. These sites are
-Monastery of Bardzrakash St. Gregory, Dsegh, Armenia;
-Stage Machinery of the Bourla Theatre, Antwerp, Belgium;
-Thracian Sanctuary in Mishkova niva area, Bulgaria;
-Historic neighborhoods of Dolcho and Apozari, Kastoria, Greece;
-Citadel of Alessandria, Italy;
-Roman Archaeological Site of Golemo Gradište, Konjuh, Former Yugoslav Republic of Macedonia;
-Paço de Vilar de Perdizes in Montalegre, Portugal;
-Carillons of the Mafra National Palace, Portugal;
-Wooden Churches in Southern Transylvania and Northern Oltenia, Romania;
-Color Row Settlement in Chernyakhovsk, Russia;
-Synagogue in Subotica, Serbia