TRUMBULL, CT — At Armenian Church of the Holy Ascension, Dr. Richard Hovannisian's Nov. 3rd presentation on the people and culture remaining in historic Western Armenia left the over 50 attendees from NY and CT wanting more. "… the Hovanissian lecture was absolutely fantastic." emailed William Papzian.
After a luncheon and a surprise birthday cake and wishes for Dr. Hovannisian, a fantastic journey embarked as Dr. Hovannisian began his multi-media presentation.
He opened with Smyrna, the showing of a brief video which was a collage of old photos and footage of life in Smyrna up to and including the burning of Smyrna in September 1922. Smyrna was a port for much trade and was in the vanguard: In as early as the 1840's the Armenians in Smyrna had a newspaper, something pretty much unheard of in the Ottoman Empire. A discussion of many of the provinces of historic Western Armenia followed with engaging discussion and interesting photos.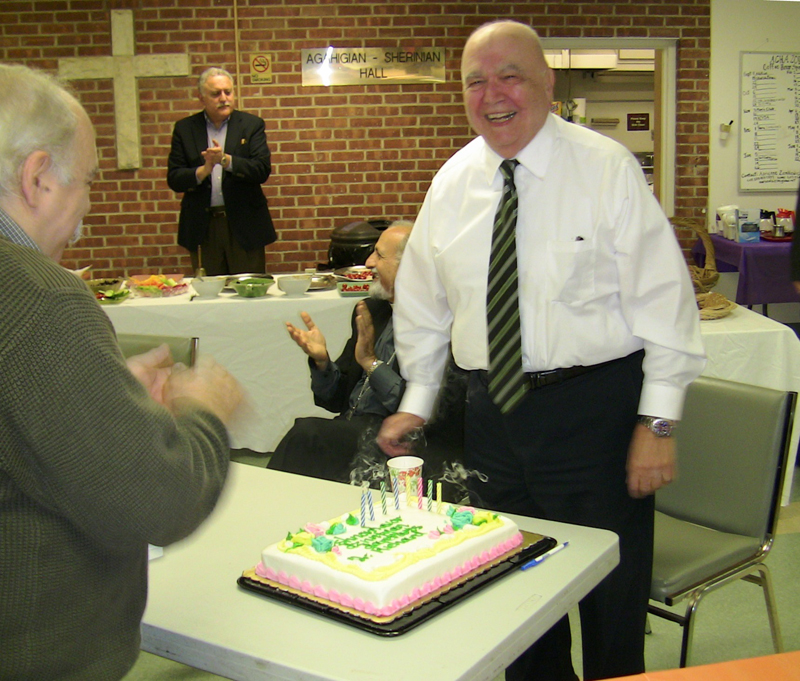 Near the end of Hovannisian's June 2013 trip to Turkey, his group headed north to the Black Sea into the mountains in search of the Hamshens. The video of the discussions with the Hamshen people was intriguing. The Hamshens speak a dialect of Armenian, but do not consider themselves Armenian.
The video footage of the interactions with some of the last few remaining Armenians in Dikranagerd was enlightening and also humorous at times. Dr. Hovannisian is UCLA emeritus professor of Armenian and Near Eastern History and has authored or edited over 20 books. He sold and autographed some of his books after the presentation and Q & A session in the church hall. One can look forward to his next volume which will focus on Asia Minor.
Following the event Stepan Piligian wrote on the church Facebook page: "He is a national treasure of the Armenian community who has led the academic and scholastic work for decades. His contributions are profound and will continue to inspire for generations. It is wonderful that Holy Ascension sponsored this event."