YEREVAN — President Serzh Sarkisian branded Azerbaijan a "medieval khanate" ruled by dictators on Monday as he celebrated the 22nd anniversary of Nagorno-Karabakh's declaration of independence from Baku.
Sarkisian also accused the Azerbaijani leadership of pursuing a policy of "anti-Armenian fascism" in a written statement issued on the occasion.
In the address president Sarkisian stated: "The indigenous people of Artsakh made their historic choice. The right to make a choice is sacred and the fact of self-determination is indisputable. The people of Republic of Nagorno Karabakh defended their freedom and secured it through the heaviest losses in the brutal war. The people of Artsakh voted for their freedom not only at the national referendum but through the national self-defense. The Artsakhians said "Yes" to freedom and independence, and they said "No" to violence and carnage."
"Today, on this great day the Armenians all over the world together with you say "Yes." "Yes" to democracy and universal human values, "No" to anti-Armenian fascism and whims of dictators. Today, on this great day we state that the Republic of Nagorno Karabakh as a mature state continues to develop comprehensively. Peaceful toil and creative work of the people of Nagorno Karabakh have already cardinally and positively changed its image. There are some countries in this world which are officially recognized by the international community but would dream of having internal orderliness and stability of Artsakh, its level of democracy and political freedoms. And all this despite the fact that the people of Artsakh are compelled to use only one hand for work, because the other still has to hold weapon."
"Certainly, there is still much to be done, serious problems still exist ranging from everyday life problems to political and military issues. However one thing is clear for us all: there is no return to the prison cell of a medieval khanate.
"Long Live Free Artsakh – the Armenian bulwark and the symbol of victorious justice!"
Azerbaijan was quick to condemn Serzh Sarkisian's statement. The Azerbaijani Foreign Ministry spokesman, Elman Abdullayev, called it a "vivid example of attempts to justify Armenia's militarist policy." "As a result of that so-called 'defense of freedom' more than a million Azerbaijani refugees and internally displaced persons were subjected to bloody ethnic cleansing and expelled from their historical lands," Abdullayev told the Trend news agency.
Sarkisian made the scathing reference to Azerbaijan and "whims of dictators" in Baku just two weeks after declaring that Azerbaijani President Ilham Aliyev's victory in an upcoming presidential election would be good for the Armenian side. He said it could also bode well for a peaceful resolution of the Karabakh dispute. A top aide to Aliyev denounced this purported endorsement as "absurd" and "false."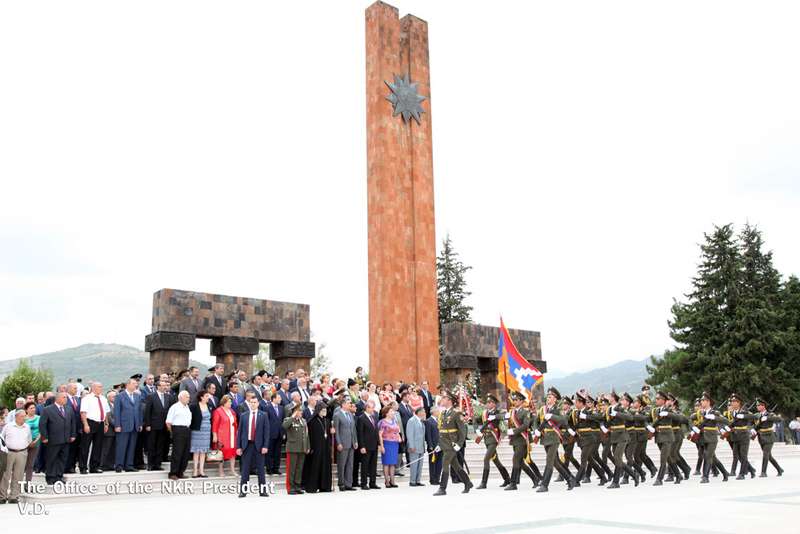 Karabakh marks Republic Day
September 2 is marked in Nagorno-Karabakh as Republic Day. On that day in 1991 Nagorno-Karabakh's elected legislative body declared about the establishment of the Artsakh Republic.
In his congratulatory address to the people today Karabakh President Bako Sahakyan described the day as a "magnificent state holiday, which we traditionally celebrate with deep pride and responsibility."
"We take pride in the heroic people who gained freedom and independence through the blood of their brave sons and nowadays keep carving their own future. We feel responsibility for strengthening the statehood created through great sacrifices, developing the native land, and leaving a strong and prosperous homeland for the generations to come," said Sahakyan, according to his press service.
"We are full of determination and perseverance to solve together all these issues successfully, to settle them with daily painstaking work, with the active support of our sisters and brothers from Armenia and the Diaspora," he added.
The anniversary ceremonies were attended by Armenia's Prime Minister Tigran Sarkisian. Karen Mirzoyan, the foreign minister of Nagorno-Karabakh Republic, said the international community will eventually recognize territory's de facto independence. "I have no doubts about that," Mirzoyan told reporters in Stepanakert.