YEREVAN — Members of the Vahe Avetyan civil movement have set up a memorial stone in front of the Harsnakar  restaurant in Yerevan to remember the military doctor who was brutally beaten to death there last year.
The inscription on the stone reads: "A stone commemorating officer of the Armenian army, military doctor Vahe Avetyan will be set up here."
Avetyan and his friends were beaten following an argument with staffers of the restaurant owned by influential businessman Ruben Hayrapetyan. The incident happened on June 17, 2012. Avetyan, who suffered severe head injuries, died in hospital 12 days later.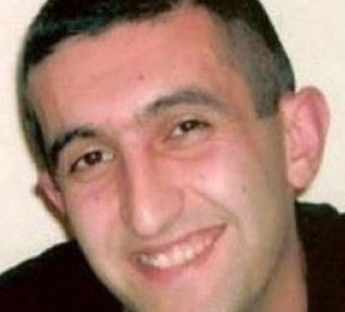 Dozens of civil activists, public figures and opposition Preparliament memebesr gathered in front of the Harsnakar restaurant. Speakers at the event expressed their discontent with the course of the current trial in the case, with some asserting that it was a display of cynicism on the part of the authorities.
"What is going on in court everyday is a slap on our face if we fail to make this trial a punishment for the criminal elite, which enjoys impunity. In this case we must not have a sleep of the just. I am calling on everyone to join us. This is not an ordinary murder. Rather, this is a murder aimed at the Armenian army." Armenia's ex-ombudsman Larisa Alaverdyan stated in a speech.
Vice-Chief of the Yerevan Police Department Valeri Osipyan tried to prevent the placement of the memeorial stone, but failed.
But later in the evening, after staging a march and returning to the place they found that the stone had been removed.
A police officer  told RFE/RL's Armenian Service that it was civil activists themselves who removed it. But Vahe Avetyan group activists excluded that such a thing could happen, accusing the police of removing the stone. They said they would decide on their further actions after discussing the incident among themselves.