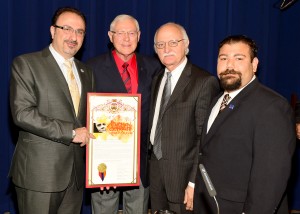 LOS ANGELES COUNTY – The Armenian Council of America along with members of the Armenian diplomatic corps, clergy and business community, Supervisor Michael D. Antonovich and the Board of Supervisors proclaimed April 24, 2013 as "Day of Remembrance for the Armenian Genocide of 1915-1923" in Los Angeles County.
"Los Angeles County is home to the largest population of Armenians in the United States, enriching our communities through their leadership in the fields of business, agriculture, academia, medicine, government and the arts," said Antonovich.
On April 24, 1915, the Turkish government began the systematic extermination of the 1.5 million members of the Armenian community that included religious, political and intellectual Armenian leaders.
"By consistently remembering and openly condemning these atrocities, Los Angeles County demonstrates the need for constant vigilance to prevent similar events in the future," said Antonovich. "We join the Armenian community in its commitment to ensure that those who died and suffered are never forgotten."
Antonovich also urged President Barack Obama and members of Congress to raise the issue with the President of Turkey when they meet in the Oval Office in a few weeks.
"On this day, we are reminded of the tremendous loss of our people, but it is also an inspiring time to celebrate the closeness and collaboration of the Armenian community which comes together every year to mark this occasion," said ACA Member Mehran Khatchadorian. "I applaud Supervisor Antonovich and the LA County Board of Supervisors for continuously championing this issue and educating the public about the importance of recognizing and taking a stand against man's inhumanity to man."
The Armenian Council of America is dedicated to educating the Armenian-American community in local political affairs, as well as actively pursuing Armenian-American participation in their respective local governments, to support political candidates who share the values of the Armenian American community.