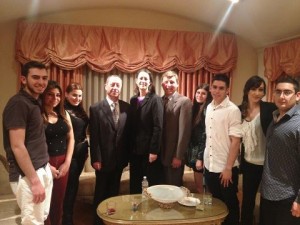 GLENDALE, CA – Over 40 members and affiliates of the Armenian Council of America (ACA) came together to welcome Glendale City Council candidates Ara Najarian, Laura Friedman and Chahe Keuroghelian on March 22nd at the Khodanian residence.
A diverse group of attendees made up of students, community activists, leaders, educators and small business owners came together to voice their concerns about issues they felt strongly about in Glendale, as well as to hear the goals and mission of the candidates in the upcoming April 2nd municipal elections.
Councilmember Ara Najarian spoke about the importance of getting the youth involved in civic affairs, including having parents in the Armenian-American community encourage their children to pursue careers in local government while Councilmember Laura Friedman stated that she was honored to be endorsed by the ACA even though she is not of Armenian descent. She also encouraged everyone to get more Armenians involved in city while Chahe Keuroghelian talked about his post-election plans for the community.
"The event drew a large crowd and was a great success," said Jirair Guiragossian, ACA Board Member. "Our members had an opportunity to mingle, share and exchange ideas with these three hard-working candidates which we are proudly supporting. We anticipate to have many more meet and greet events like this in the future, as we prepare the next generation of community leaders and activists in Glendale and beyond."
The Armenian Council of America is dedicated to educating the Armenian-American community in local political affairs, as well as actively pursuing Armenian-American participation in their respective local governments, to support political candidates who share the values of the Armenian American community.