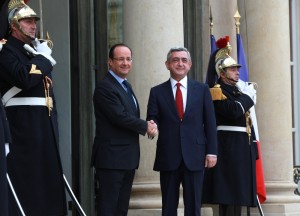 PARIS — Armenia and France accentuated their longstanding friendly relations and pledged to boost economic and political ties as their leaders met in Paris on Monday.
Armenian President Serzh Sarkisian, who arrived in France on a three-day official visit the previous night, was received by his French counterpart Francois Hollande in the Elysee Palace, with the agenda of the talks ranging from economic cooperation to Nagorno-Karabakh and other regional concerns including Syria and Iran. The sides also addressed the prospect of a new legislation in France to criminalize denial of the 1915 Armenian Genocide in Ottoman Turkey.
After the meeting the two leaders made statements for the press.
One of the major issues on the agenda of the talks that lasted for nearly an hour was the Nagorno-Karabakh settlement in which France acts as one of the international mediators between Armenia and Azerbaijan.
Hollande stressed that France saw a settlement within the framework of the so-called Madrid principles and vowed continued French mediation in finding a solution to the protracted conflict.
"France, which is a member of the Minsk Group, will do everything to make the negotiations reach their conclusion. As you know, the negotiations were suspended at one point, but now they have resumed," said the French leader.
Hollande also told the media that he discussed with Sarkisian other regional concerns, including the crisis in Syria and developments around Iran.
Expressing his understanding of Armenia's cautious position on Syria where there is a sizable ethnic Armenian community, the French leader still stressed that Syria needs a change of its regime. He did not elaborate on discussions involving Iran, only saying that he hoped the messages made at the meeting would get across through the Armenian president.
For his part, Sarkisian thanked the French government and people for their positions affirming the Armenian Genocide.
Speaking about prospects of economic cooperation Hollande said that France was the second largest investor in Armenia's economy. Still, he stressed the need for deepening economic ties. He said that French-Armenian economic ties could be expanded especially in the transportation and agricultural sectors.
"We, indeed, would like the French capital to expand in Armenia," Sarkisian underscored. "This time I have come to France to tell the French president, the very good friend of mine and the Armenian people, Francois Hollande, that Armenia is deeply interested in expanding the agenda of Armenian-French relations."
Hollande said he accepted Sarkisian's invitation to pay a state visit to Armenia next year.
The meeting between Armenian and French Presidents was followed by a state dinner in honor of Serzh Sarkisian.
During the dinner Francois Hollande reiterated the pledge to redraft the bill criminalizing the Armenian Genocide denial in France, stressing the need to ensure the legal framework to avoid censorship by the Constitutional Council.