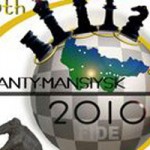 Twice Olympic Champion Armenia ended the fourth day of the ongoing World Chess Olympiad in Khanty-Mansiysk, Russia, gained victory over team Russia-3 (2.5-1.5). A day earlier in the third round Armenia beat Turkey (3.5 to 0.5).
Against Russia, Levon Aronian defeated Dmitry Yakovenko in the 46th move, playing white. Arman Pashikyan and Vladimir Hakobyan ended their games in a draw, playing black. In his turn Gabriel Sargsyan drew with Sergei Rublevsky.
Agains Turkey, Armenia's player Levon Aronyan, Arman Pashikyan and Vladimir Hakobyan won their games, with Gabriel Sargsyan settling for a draw.
In the two opening games of the Olympiad Armenia beat overwhelmingly Costa Rica and Australia.
Armenia triumphed at the last two Olympiads in 2006 and 2008 and is now a defending champion.
Meanwhile, Armenia's women's team beat Macedonia 4-0 on the third day of play in Khanty-Mansiysk.
In the two opening games Armenia's women consisting of Elina Danielyan, Lilit Mkrtchyan, Lilit Galoyan, Nelly Aghinyan and Anahit Kharatyan first beat a Russian-Indian mixed team before losing to the Czech Republic in the second round.