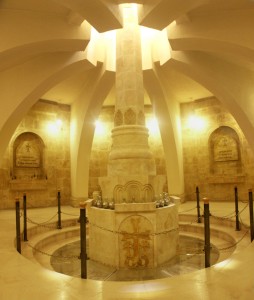 Holy Martyrs Memorial Complex and a nearby chapel in the town of Deir ez-Zor (450 kilometers to the northeast from capital Damascus) has sustained some damage caused by bomb shelling and explosions. The complex immortalizes the memory of hundreds of thousands of Armenians killed during the Ottoman-era death marches through the Syrian desert.
A video footage distributed on YouTube by Syrian opposition groups shows damage in the interior of the complex with fallen stones and shattered glasses.
Late last month the Armenian Surp Gevorg (St. George) church located at a scene of continuing fighting between the Syrian army and rebels in Aleppo was seriously damaged by fire.