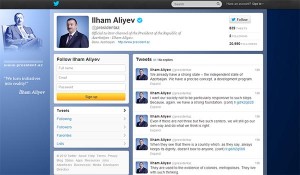 BAKU — Azerbaijani President Ilham Aliyev has used the online social network to unleash a barrage of disparaging tweets against Armenia.
"Armenia as a country is of no value," Aliyev, in particular, tweeted on Tuesday in what was excerpts of his original November 16 speech at a meeting of the ruling New Azerbaijan Party, celebrating its 20th anniversary.
"It [Armenia] is actually a colony, an outpost run from abroad, a territory artificially created on ancient Azerbaijani lands," he added, according to RIA Novosti.
The Azeri leader said his country would "continue to expose Armenia's aggressive policy in all international organizations" and repeated his earlier controversial comments regarding the Armenian Diaspora.
"I have often talked about it, I want to say it again without fearing anyone – our enemy is the Armenian lobby," said Aliyev.
"We are conducting talks and at the same time building up our military strength," Aliyev said in another tweet, adding that Baku would continue its efforts to isolate its neighbor, according to Reuters.
"Azerbaijan grows stronger and more powerful by the year, while Armenia weakens and declines every year … We will continue our efforts to isolate Armenia."
Aliyev and his government have tried to boost their presence online, where dissident Azeri bloggers and members of the Armenian diaspora regularly attack Azerbaijan's human rights record.