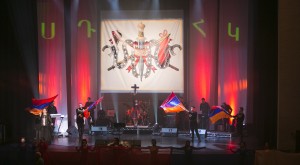 GLENDALE, CA – On November 18, 2012, over one thousand Armenian Americans reveled in a highly patriotic and nationalistic closing ceremony dedicated to the 125th anniversary of the Social Democrat Hunchakian Party.
The three hour event included opening remarks by the Mistress of Ceremonies Mrs. Takouhi Arzou-manian, and speeches from: Mr. Krikor Moloyan representing the S.D. Hunchakian Party Gaidz Youth Organization; Mr. Vasken Khodanian, Chairman of the S.D. Hunchakian Western Region Executive Committee; H.E. Archbishop Hovnan Derder-ian, Primate; Archbishop Vatche Hovsepian, former Primate; Raffi K. Hovannisian, first Foreign Minister of Armenia and current chairman of the Heritage Party; as well as the event's key note speaker, Mr. Harry Sarafian, S.D. Hunchakian Party Central Committee member.
Dignitaries at the event included; Reverend Joseph D. Matossian, Armenian Evangelical Union; the Honorable Grigor Hovhanissian, Consul General of the Republic of Armenia in Los Angeles, as well as representatives of ADL-Ramgavar party, AGBU, Armenian Society of Los Angeles, Organization of Istanbul Armenians and compatriotic organizations.
Traditional Armenian and patriotic songs were performed by a trio of very talented singers: Harut Hagopyan, Arno Mkertchyan and Shiraz, coupled with Mrs. Ani Sarafian Yepremian who recited powerful poetry inspired by and dedicated to the S.D. Hunchakian Party. The singer's performances were complemented with inspiring and vivid dance performances by the Lilia Dance Company as well as Mrs. Arzoumanian's renditions of poetry adding historical significance to the words of the songs.