GLENDALE — Roslin Art Gallery presents a special exhibit by Seeroon Yeretzian titled "Home Sweet Home" which will be on exhibit from December 8 – 29 , 2017 at 415 E. Broadway, Glendale, CA. Gallery hours are from 10:00am to 7:00pm, Monday through Saturday. Opening reception will be on Friday, December 8 at 7:00 pm. Admission is free.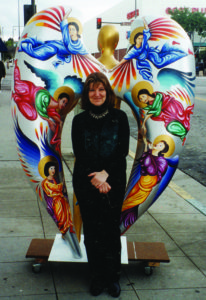 "Home Sweet Home" presents a collection of art by Los Angeles based artist Seeroon Yeretzian, celebrating a city which gave her wings as an artist and a permanent home. From growing up in a ramshackle refugee camp in Lebanon with Armenian parents who survived Genocide in Turkey, to fleeing civil war and settling in a faraway city such as Los Angeles, Seeroon has often grappled with the idea of home, especially in her early art. In a huge city full of unfamiliar people and spaces, Seeroon found the familiar in the homeless people of skid row whom she approached and interviewed, and in discarded Japanese dolls she found on the streets, in which she found comfort. This was contrasted to the lifeless mannequins tucked away in the cozy reflective showcases of Beverly Hills. This cosmopolitan city is where she blossomed as an artist, ultimately returning to her ancestral roots as a modern master of the art of the medieval illuminated manuscript. Her gift back to L.A. was "Angel of the Century," a piece painted in the illuminated art style, depicting angels of different nationalities dwelling in Los Angeles, which was part of the citywide "A Community of Angels" sculptural project.
Seeroon Yeretzian is an accomplished artist with diverse talents in painting, sculpture, and illustration. Born in 1951 at the Tiro refugee camp in Beirut, Lebanon , Seeroon was exposed to both the beauty and suffering of the world. This dichotomy has emerged in her work in what she calls her "Sunshine" and "Moonshine" art. The "Sunshine" pieces are rich in color, showcasing many life-giving earthly elements and produced during daytime. Conversely, the "Moonshine" pieces reflect themes based on personal experiences ranging from the Armenian Genocide to homelessness and self identity. Recognized for reviving the art of prehistoric Armenian petroglyphs and medieval Armenian ornamental art, her masterpieces include the elaborate Four Seasons and her 17 alphabets of different languages executed in the tradition and style of the Armenian ornate initials. Seeroon received her Bachelor's Degree in Fine Arts in 1985 from the Otis-Parsons Art Institute and School of Design . She has authored three books, her self titled art book, Seeroon Yeretzian , her book of poetry, Word Weaving & Black Seat Confessions , and her best-seller, Seeroon Darer: Armenian Ornate Initials . This book served as the artistic inspiration for the design of the Armenian American Rose Float Association's award winning float in the 126th Annual Rose Parade, entitled, Cradle of Civilization. In 2014, the City of Glendale, California, bestowed upon her its "Lifetime Achievement Award" for the arts. Although she was diagnosed with Lou Gehrig's disease in 2012, Seeroon continues to create to this day. She has exhibited in numerous solo and group shows and her art is found in private collections and major institutions.