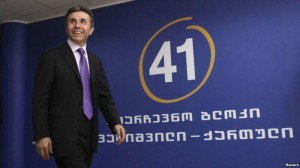 TBILISI — Bidzina Ivanishvili, the billionaire leader of opposition alliance that has won Georgia's parliamentary elections, has raised eyebrows in Armenia after reportedly questioning the existence of a sizable Armenian community in his country.
Ivanishvili, who is expected to become prime minister, was quoted as making disparaging comments in an interview with the Russian online journal "Novoye Vremya" (New Times) published on Friday.
Asked about the reasons for his return to Georgia about a decade ago and eventual involvement in politics, the French national said, "We, Georgians, are so strange – we are attached to our land. This is our character. There are, for example, Armenians living here. I'm amazed that their homeland is next door but they live here."
"You probably have no such questions. But for me that's not comprehensible," he added, according to the publication.
Official Yerevan was quick to signal its discontent with these remarks through a senior lawmaker affiliated with the ruling Republican Party of Armenia. Artak Zakarian, chairman of the Armenian parliament's committee on foreign relations, said they are "at least bewildering" and compared them to the ultranationalist rhetoric of Georgia's first President Zviad Gamsakhurdia.
"One can only express hope that this was a slip of the tongue by the leader of a political force that won the elections with pledges to promote the European value system and strengthen democracy," Zakarian said in a statement.
Foreign Minister Edward Nalbandian made no direct mention of the apparent gaffe in what was Armenia's first official reaction to the Georgian elections and their surprise outcome. But he did stress that "Georgia is home to thousands of Georgian Armenians who are an important factor strengthening our friendship."
"We have managed to build a mutually beneficial inter-state relationship with Georgia based on mutual respect and we hope that we will continue our joint efforts to further strengthen our friendly cooperation," Nalbandian said in written comments to ArmNews television. He also expressed confidence that the "free and competitive" elections will foster continued reforms in Georgia.
The comments attributed to Ivanishvili prompted "deep concern" from a Georgian non-governmental organization that claims to represent the country's Armenian and other ethnic minorities. In a statement, the group called Multiethnic Georgia said they contradicted Ivanishvili's pre-election statements and demanded an explanation from the leader of the Georgian Dream alliance.
Ivanishvili reacted to the unfolding uproar later in the day. He said that the Russian publication did not present his full answer to the question and thus "completely distorted the context."
"In response to the journalist's questions, I emphasized that I admire the unique ability of Armenians and Jews to be citizens of the world, to be successful wherever they live and to have a strong Diaspora," the 56-year-old tycoon wrote on his Facebook page. "We Georgians, however, are such amazing people that unfortunately we have not managed to settle anywhere else and create a strong Diaspora. This was the basic context of my answer."
"I want to emphasize that Georgia is a multiethnic country and the homeland of all peoples living here," Ivanishvili said.