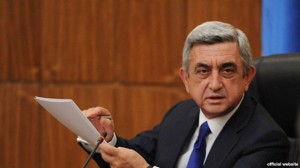 YEREVAN (Reuters) — Armenian President Serzh Sarkisian has accused Azerbaijan of preparing for war over Nagorno-Karabakh.
In an interview in Yerevan with the Reuters news agency, Sarkisian said Azerbaijan's government has been acquiring what he called a "horrendous quantity" of arms to prepare for new fighting.
"Now, 18 years after the signing of this cease-fire agreement, Azerbaijan threatens us with a new war," Sarkisian said.
Sarkisian accused Azerbaijanis of having hatred toward Armenians and a "general xenophobia." He said, however, that Armenia still hopes for a negotiated settlement that would end the conflict between the neighboring Caucasus states peacefully.
"When I say that there is hatred towards Armenians, a general xenophobia in Azerbaijan; when I say there is a dangerous accumulation of armaments in Azerbaijan; when I say Azerbaijan is getting prepared for resuming military hostilities and settling the conflict by military means, that doesn't mean at all that there is no need to continue with negotiations," Sarkisian said.
Ties between Armenia and Azerbaijan were recently aggravated after Azerbaijani President Ilham Aliyev pardoned a soldier who had been sentenced to life in prison in Hungary for murdering an Armenian officer in 2004.
The officer was pardoned immediately after he was sent back to Azerbaijan from imprisonment in Hungary.
In the interview, Sarkisian said the pardon of the Azerbaijani officer showed Nagorno-Karabakh — a region of about 160,000 people — could never be part of Azerbaijan.
Asked if he was confident he would see a solution to the Nagorno-Karabakh dispute, Sarkissian said: "I'm confident."
"At least I hope that I will never see Nagorno-Karabakh incorporated in the Azerbaijani framework again and that in itself is a huge success," he said.