YEREVAN (RFE/RL) — The pro-government majority in the Armenian parliament ratified on Monday a highly controversial gas agreement with Russia in a vote which was denounced as invalid by Armenia's leading opposition forces and sparked fresh street protests.
The deal, which critics consider a serious blow to Armenia's sovereignty, was backed by 77 members of the 131-seat National Assembly mainly representing President Serzh Sarkisian's Republican Party of Armenia (HHK). Just before the vote deputies from the three opposition parties represented in the assembly as well as the opposition-leaning Prosperous Armenia Party (BHK) walked out of the main parliament auditorium in protest.
The pro-government lawmakers decided to vote by hand, instead of using the customary electronic voting system, after it emerged that some of them had their plastic magnetic cards taken away by one of their outspoken opposition colleagues, Zaruhi Postanjian of the Zharangutyun (Heritage).
The parliament minority leaders seized upon this fact to declare the vote null and void. In a joint statement, they cited the National Assembly's statutes stipulating that if the electronic system is not used votes should be counted by a special parliamentary commission. They argued that the vote count was done instead by parliament speaker Hovik Abrahamian and his two deputies.
"The treaty has not been ratified," read the statement signed by Postanjian, BHK's Naira Zohrabian, Levon Zurabian, the parliamentary leader of the Armenian National Congress (HAK), and Armen Rustamian of the Armenian Revolutionary Federation (Dashnaktsutyun).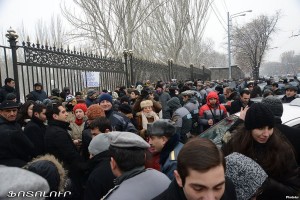 "The Russian Federation, the outside world must be aware that the agreement has not been ratified," Nikol Pashinian, another opposition deputy not affiliated with any of these four parties, told RFE/RL's Armenian service (Azatutyun.am).
"If anybody transfers any assets of the Republic of Armenia to somebody else on the basis of this non-ratified agreement, we will deal with that somebody in a proper manner," warned Pashinian.
The deal in question, which was signed during Russian President Vladimir Putin's recent visit to Armenia, formalizes the sale of the Armenian government's 20 percent share in the domestic gas distribution network to Russia's Gazprom monopoly. In return, Gazprom will write off a $300 million which the government has incurred as a result of secretly subsidizing the price of Russian natural gas supplied to Armenia since 2011.
More importantly, the deal stipulates that the current and future Armenian governments cannot raise taxes or make any other changes in the regulatory environment for the Gazprom-owned network until January 2044. The Armenian side is also obliged to ensure that domestic gas tariffs in the country are high enough for Gazprom to recoup 9 percent of its capital investments in the network annually.
These unprecedented privileges have prompted vehement objections from opposition members and anti-government activists opposed to Armenia's planned accession to a Russian-led customs union. Hundreds of them demonstrated outside the parliament building in Yerevan on Monday.