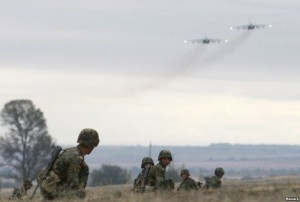 YEREVAN — About 2,000 soldiers from Russia and five other former Soviet republics will begin on Saturday five-day military exercises in Armenia within the framework of the Russian-led Collective Security Treaty Organization (CSTO).
The troops are mostly special army units making up a rapid reaction force that was set up by the CSTO member states at Moscow's initiative in 2009. The creation of the Collective Operational Reaction Forces (CORF) was meant to strengthen the defense alliance of Russia, Armenia, Belarus, Kazakhstan, Kyrgyzstan and Tajikistan.
The exercises will take place at the Armenian army's Baghramian training center about 40 kilometers west of Yerevan. The army has prepared the facility for the drills for the past several months. The CSTO secretary general, Nikolay Bordyuzha, discussed those preparations with senior Armenian military officials when he visited Armenia in June.
Defense Minister Seyran Ohanian said on Friday that the exercises are part of the CSTO's efforts to create a "common security environment." "With these exercises, we will also help to boost the combat capacity and equipment of the rapid reaction force and raise the interoperability of its units," he told journalists.
The CSTO secretariat in Moscow said in a statement that the participating troops will practice "the use of forces and means of collective security in the Caucasus region." It said the exercises will be monitored by representatives of the United Nations and the Organization for Security and Cooperation in Europe.
Military ties with Russia, in both the bilateral and CSTO frameworks, remain a key element of Armenia's national security doctrine. In particular, membership of the CSTO entitles the South Caucasus country to receiving Russian weapons and military hardware at knockdown prices or even free of charge.
Bordyuzha announced late last year that Moscow plans to equip Armenian and other units of the CORF with modern weaponry. He also pointed to growing cooperation between the Russian and Armenian defense industries, which is also part of Moscow's efforts to bolster the CSTO.