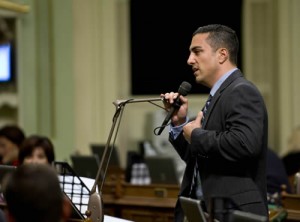 SACRAMENTO- Assemblyman Mike Gatto (D- Los Angeles) will lead the California State Assembly as it commemorates the Armenian Genocide on Thursday, April 14, 2011.
"It is an honor to preside over the California State Assembly on this most solemn of occasions, when we preserve the memory of those Armenians who died during the dark days between 1915 to 1923," said Gatto.
To mark this special occasion, at the request of Assemblyman Gatto, the Assembly has invited His Eminence Archbishop Hovnan Derderian, Primate of the Western Diocese of the Armenian Church of North America, to offer the Invocation at the beginning of the Assembly's remembrance.
"The recognition of the Armenian Genocide by the State of California Assembly encourages the Armenian community as we continue to pay homage to the memory of the victims. Above all, the noble act gives us the spiritual strength to hold firm the essence of our Christian faith and heritage and to become devoted citizens of this blessed country of the United States of America," stated Archbishop Derderian.
The Assembly will also take up two important measures that day. The first is Assembly Joint Resolution 7, a measure co-authored by Assemblyman Gatto, which acknowledges the Genocide, asks all Californians to remember it during April 18-24, and calls on the U.S. Congress to do the same.
Also, the Assembly will take up AB 173, authored by Assemblyman Gatto, a substantive bill that can affect thousands of Armenians in California. Gatto's bill extends the time by which victims of the Armenian Genocide or their heirs or beneficiaries can file suit in California court against insurance companies for claims on policies purchased in Europe and Asia before the Armenian Genocide.
"On this solemn occasion, it is gratifying to see our public servants, like Assemblyman Gatto, recognizing the Armenian Genocide, and acknowledging it so that it never happens again," said Mark Geragos, legal counsel for families pursuing many of these claims.
Continued Geragos, "I think this is important work for the legislature, and everyone in California to hold accountable all the companies that benefited from the Genocide."
Gatto concluded, "I authored AB 173 and AJR 7 because the crimes committed against the Armenian people by the Ottoman Turks must never be forgotten. Once again, the largest state in the United States is tasked with reminding the world of these events. We call upon the nation as a whole to stand with us and do the same."
Anyone can watch the Commemoration Ceremony by visiting www.calchannel.com starting at 9am on Thursday, April 14.
Gatto represents Glendale, Burbank, and the Los Angeles communities of Silver Lake, Los Feliz, Toluca Lake, and North Hollywood in the California State Assembly.
Website of Assemblyman Mike Gatto: www.asm.ca.gov/gatto