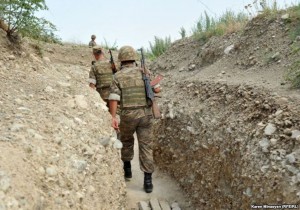 YEREVAN — An Armenian soldier was shot dead on Tuesday on a frontline position at a volatile section of the Armenian-Azerbaijani "line of contact" around Nagorno-Karabakh.
Citing "preliminary data," Armenia's Defense Ministry said the 19-year-old conscript, Vaghinak Baghdasarian, was killed by Azerbaijani forces. A ministry statement said military authorities are investigating the incident.
A ministry source told RFE/RL's Armenian service (Azatutyun.am) that the shooting took place in northeastern Karabakh.
Ceasefire violations there have been a regular occurrence in recent years. They have also become more frequent at other sections of the heavily militarized frontline as well as along Armenia's border with Azerbaijan.
International mediators have increasingly expressed concern at such incidents and urged the parties to the Karabakh conflict to bolster the ceasefire regime with confidence-building measures. In particular, they want both sides to withdraw snipers from the frontlines and jointly investigate truce violations.
The Armenian government and Karabakh's leadership say they are ready to do this.
Azerbaijan, however, has repeatedly spoken out against sniper withdrawal. Azerbaijani Foreign Minister Elmar Mammadyarov also effectively rejected in June the idea of joint investigations.