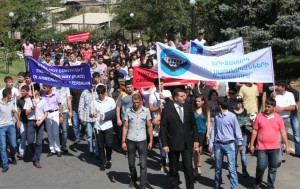 STEPANAKERT — A procession to commemorate the assassinated Armenian lieutenant, Gurgen Margaryan, was organized in Stepanakert earlier on Monday.
Around 3,000 people attended the event held to mark Margaryan's birthday and protest the extradition and the hero's welcome of his killer, Ramil Safarov.
According to a press release by the Artsakhakertum foundation, the crowd, gathered near the St. Hakob Church, headed to city's Fraternal Grave to lay flowers to the monument to the accompaniment of a military band.
They chanted slogans, "No to axe-policies", "Shame on world community", "Gurgen is with us", "We won't keep silence", etc.
Safarov axed Margaryan to death in Budapest in 2004, when both servicement were attending Nato-organized English language trainings in the Hungarian capital. In 2006, the Budapest City Court sentenced Safarov to life in prison. But in 2006, the axe-killer was extradited to Azerbaijan and immediately granted a presidential pardon. He was later promoted to the rank of mayor and given an apartment in Baku.