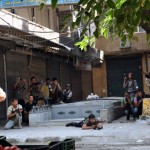 Two ethnic Armenians have been killed in Syria's Damascus and Aleppo during the recent days as a result of clashes between Syria's governmental forces and rebels.
Arsen Ghshpoladian, 38, was wounded during Saturday morning clashes in the vicinity of the Armenian cemetery of Damascus' Bab Sharkgh district. Ghshpoladian was transferred to hospital, but the doctors were unable to save his life.
In Aleppo clashes between governmental forces and opposition groups near Armenian districts has claimed the life of 76-year-old woman Adelina Khacherian.
Another Syrian-Armenian, Mesrob Chinchinian was injured as a result of a bomb blast. He has undergone an operation and is recovering.
The frontlines in Aleppo have reportedly moved closer to the city's Armenian-populated districts in recent days. A video footage that recently appeared on Facebook features Syrian oppositionists saying that a district in Aleppo is now under their occupation.
According the report, the Cilician Armenian College and the Armenian National Prelacy are situated a short distance from the district called Jdayde.
No one from Aleppo's Armenian community could be reached for comment, with the mobile and landline telephony and the Internet being unavailable in the city for already a week.