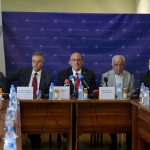 YEREVAN — The American University of Armenia (AUA) announced plans to launch its first-ever Bachelor's degree program, set to begin in the fall of 2013. In its over 20-year history, AUA has become one of the country's premier research institutes. With the addition of a new, four-year undergraduate curriculum, the university raises the bar for education in Armenia even higher.
The momentous announcement was made by AUA President Dr. Bruce Boghosian at a recent press conference which garnered worldwide media coverage. Dr. Boghosian noted that the undergraduate program will enroll approximately 300 students every year, with the goal of accommodating 1,200 undergraduates by 2017.
AUA's new undergraduate program will offer majors in Computational Sciences, Business, and English & Communications. The Bachelor's degree in Computational Sciences will include topics in applied mathematics and computer science, as well as courses in computational techniques for the simulation and modeling of systems of relevance to science and engineering. The coursework for the Bachelor's degree in Business will include a solid grounding in economics, finance, accounting, marketing, management, and business communications. The Bachelor's degree in English & Communications will include courses in journalism, public relations, writing, translation and other aspects of communications.
AUA's 4-year program will help lay a foundation for graduates who are well-positioned to pursue careers and advance progress in their homeland. All three programs will have a strong general education component, and will be taught in English. These new majors will complement the seven Master's degree programs that AUA currently offers.
The new AUA undergraduate program will allow the university to further its mission of providing accessible, high-quality education for the next generation of Armenian professionals – while at the same time making the school a destination for international students. "All of us at AUA are excited about reaching this new milestone…We remain committed to offering rigorous academics and an Armenian education, and look forward to a vibrant, international faculty and student body from Armenia and abroad," noted Dr. Boghosian. He further emphasized, "The university will keep in place its 'need-blind' admissions policy, continuing to ensure that no qualified Armenian student is denied an education at AUA because they lack the means to pay tuition."
The American University of Armenia is accredited by the Accrediting Commission for Senior Colleges and Universities of the Western Association of Schools and Colleges, 985 Atlantic Avenue, #100, Alameda, CA 94501, (510) 748-9001. Following an intensive proposal process, which included a visit to the university, the Commission approved the offering of the new undergraduate program. The Western Association of Schools and Colleges is one of six regional accreditation agencies recognized by the U.S. Department of Education. The undergraduate program has also already received a license from the Republic of Armenia's Ministry of Education and Science.
www.aua.am/undergraduate
AUA_Undergraduate_Program_Announcement.jpg: At the press conference announcing AUA's new undergraduate program (l. to r.) Director of Accreditation Sharistan Melkonian; Vice President of Operations Ashot Ghazaryan; AUA President Dr. Bruce Boghosian; AUA Foundation Board Member Dr. Yuri Sarkissian; Vice President of Finance Gevorg Goyunyan.