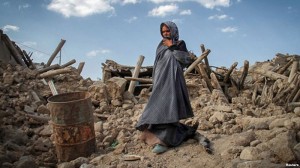 YEREVAN — Armenia will provide about 60 million drams ($146,000) worth of humanitarian assistance to victims of the powerful weekend earthquake in neighboring Iran, the government said on Thursday.
Government officials said the relief aid approved by Prime Minister Tigran Sarkisian's cabinet will include tents, blankets, portable beds, sleeping bags, canned food and drinking water.
"We have discussed with our Iranian colleagues the list of necessary goods that they need the most and will ascertain the list in the next two days," Sarkisian told ministers. "We will also organize within two days the shipment of those goods to Iran."
"I suppose that we can deliver the aid tomorrow evening or the following morning at the latest," Deputy Minister of Emergency Situations Haykaram Mkhitarian told reporters after the cabinet meeting.
The Armenian government also offered to send rescue teams immediately after the 6.4 magnitude earthquake struck northwestern Iran on Saturday, killing more than 300 people and injuring 3,000 others. Officials in Yerevan say the Iranian side did not accept that offer.
The government did not approve or discuss any help to residents of Armenian towns and villages close to the Iranian border whose houses were damaged by the disaster. An RFE/RL correspondent witnessed some of that damage in one of those villages, Varhavar, on Wednesday. Most of its residents have stayed and slept outdoors since Saturday, fearing another earthquake that could cause greater devastation. They complained that no officials from the central government and the regional administration has visited them so far.
The village mayor, Suren Arakelian, told RFE/RL's Armenian service (Azatutyun.am) that officials from the administration of Syunik province finally visited the impoverished community and promised assistance on Thursday.
"They examined all houses and drew up corresponding protocols," Arakelian said. "They said nothing about figures because they need to carry out calculations. They also said that there will be compensation very soon."
According to Arakelian, the regional officials said nothing about the amount of that compensation. "Since the damage was extensive, they could not carry out immediate calculations," he said.