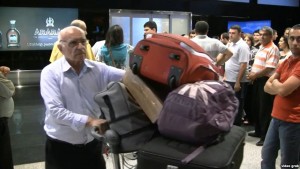 YEREVAN — There are currently about 2,000 Armenians from Syria residing in Armenia after having mostly fled violence in the Middle Eastern state, the Ministry of Diaspora in Yerevan said on Thursday.
Most of them have come to Armenia in recent months amid increasingly heavy fighting between Syrian government troops and rebels. The influx appears to have intensified since the fighting reached the northern city of Aleppo, the cultural and economic center of Syria's 80,000-strong Armenian community.
Armenia's Foreign Ministry says its diplomatic missions in Aleppo and Damascus have issued visas to over 3,000 Syrian nationals this year. According to immigration authorities in Yerevan, roughly 6,000 Syrian Armenians have applied for dual Armenian citizenship since the start of the Syrian crisis early last year.
The Ministry of Diaspora data suggests that most of those applicants still have no plans to settle in Armenia. And many of the reported 2,000 immigrants do not seem intent on making the country of their ancestors their new permanent home.
Firdus Zakarian, a senior ministry official dealing with the matter, told RFE/RL's Armenian service (Azatutyun.am) that only about 300 Syrian Armenians plan to stay there for good. One Syrian Armenian family has settled in Nagorno-Karabakh and several others plan to follow suit, he said.
Zakarian agreed that Armenia's lingering socioeconomic woes and high unemployment in particular weigh heavily on many members of the mostly affluent Diaspora community. He said a lack of jobs and business opportunities is the main problem facing Syrian Armenian immigrants.
"Another problem is that their specialties do not always correspond to vacancies available here," explained Zakarian. He said the Ministry of Diasporas has found jobs for only 15 Syrian Armenians this year.