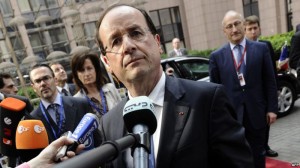 PARIS — French President Francois Hollande confirmed Saturday plans for a new law criminalising denial of the Armenian genocide with representatives of the Armenian community, the Elysee Palace said, effectively refuting a statement to the contrary made by his foreign minister.
The minister, Laurent Fabius, said on Thursday that a similar law that was struck down by France's constitutional court in February is unlikely to be revived. Fabius spoke after talks in Paris with his visiting Turkish counterpart Ahmet Davutoglu, which underlined a thaw in French-Turkish relations that followed Hollande's victory in recent presidential elections.
French-Armenian leaders were quick to express serious concern at Fabius's remarks. Hollande moved to allay those concerns in a phone conversation with a top representative of the Coordinating Council of Armenian Organisations of France (CCAF), an umbrella structure representing the 500,000-strong Armenian community.
"Francois Hollande has again expressed his willingness to propose a bill designed to curb the denial of the Armenian genocide, as he had said during his campaign and even before," the CCAF said in a statement.
The presidential Elysee Palace confirmed the telephone conversation and told AFP on Saturday: "The president expressed his commitments during the campaign. He will keep them." "There is no change, although we must find a path, a road that allows for a text that is consistent with the constitution," it said.
Meanwhile, official Ankara played down the significance of Hollande's statements. "We pay more attention to the statement of French Foreign Minister Laurent Fabius," an unnamed Turkish Foreign Ministry official told "Hurriyet Daily News" on Sunday.
"I believe that the new team in power in Paris will have the wisdom not to reopen this file," Foreign Minister Davutoglu said for his part in an interview with the French daily "Liberation" published on Monday.