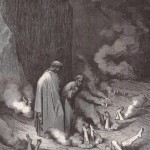 Dr. Sergio La Porta, holder of the Haig & Isabel Berberian Chair of Armenian Studies at Fresno State will speak on "L'Inferno Armeno: Some Readings of Dante in Modern Armenian Literature" at 7:30 PM on Thursday, April 7, 2011, in the University Business Center, Alice Peters Auditorium, Rm. 191, on the Fresno State campus.
The lecture is part of the Armenian Studies Program Spring Lecture Series and is co-sponsored by the Armenian Students Organization at Fresno State.
In the early decades of the 14th c., Dante Alighieri composed his famous Commedia, later styled divina. Despite its serious and theological nature, the Divine Comedy was not written in Latin, but in a new language fashioned by Dante called 'Italian'. His tour of hell, purgatory, and heaven became one of the foundation stones of Italian and of world literature.
From the second half of the 19th c. through the 21st century, several translations of selections from and of the entire Divine Comedy of Dante were rendered both into Classical and Modern Armenian. The significance and power of this work was not lost on modern Armenian poets who were crafting their own new language. Both the figure and the figuration of the Italian poet left their mark on Armenian authors.
This lecture will look at several instances in which modern Armenian poets, including Bedros Tourian, Daniel Varujan, and Eghishe Charents', share resonances with the medieval Italian poet's Inferno.
Dr. La Porta is Berberian Professor of Armenian Studies at Fresno State and teaches a variety of Armenian Studies courses. He earned his Ph.D. from Harvard University and wrote his thesis on the third volume of Grigor Tat'ewac'i's Book of Questions. His most recent publications include a three-volume study of the earliest Armenian commentaries on the Heavenly Hierarchy attributed to Dionysius the Areopagite (Peeters, 2008); a volume co-edited with Prof. Shulman on The Poetics of Grammar and the Metaphysics of Sound and Sign (Brill, 2007); and several articles on medieval Armenian political, religious, and intellectual history. His current areas of interest include apocalyptic literature in the Armenian tradition; the history of Greater Armenia between the Seljuk and Mongol invasions; and the influence of the works attributed to Dionysius the Areopagite on Armenian spirituality and theology.
The lecture is free and open to the public. Relaxed parking will be available in the UBC (University Business Center) parking lot after 7:00 PM the night of the lecture. For more information on the lecture please contact the Armenian Studies Program at 278-2669.