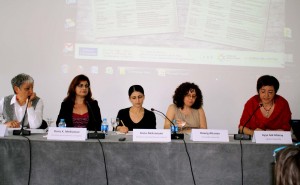 ISTANBUL — The "Gendered Memories of War and Political Violence" International Conference in Istanbul, Turkey, featured a panel devoted to the Armenian Genocide, titled "Gendering the Armenian Genocide." The conference was organized by Prof. Ayse Gül Altinay of Sabanci University and Prof. Andrea Petö of Central European University as a joint academic initiative between their two universities.
Over 40 academics from around the world (Australia, Israel, Poland, Great Britain, Bulgaria, Finland, Netherlands, Greece, Canada, United States, and Armenia) gathered in Istanbul to present their latest research findings on women's memories of war and political violence. Papers examined genocides and political violence in Cambodia, Vietnam, Congo, Northern Ireland, Bosnia, Serbia, Israel-Palestine, Iraq, Afghanistan, and Turkey.
Keynote speaker, Prof. Cynthia Enloe of Clark University, set the tone for the conference, posing the question, "Which wartime women are remembered in post-wartime and which forgotten?" Enloe underscored the importance of paying tribute to women's memories of political conflict, recognizing that stories remain untold as women live their lives in post-conflict silence. As Doris Melkonian of the University of California, Los Angeles said during her presentation, quoting Professor Kamala Visweswaran, "If we do not know how to hear silence, we will be unable to understand what is being said."
The conference papers were grouped into nine panels which included: "Gendered Memories of War in Literature and the Arts"; "Women's Narratives of War and Soldiering"; "Sexual Violence: Silence, Narration, Resistance"; "Gender, Sexual Violence and International Law"; "Gendering the Armenian Genocide"; and "Reflecting on Feminist Memory Work."
The panel devoted to the Armenian Genocide consisted of (in order of presentation): Doris Melkonian (United States), Anna Aleksanyan (Armenia), Hourig Attarian (Canada), and Ayse Gül Altinay (Turkey), with Arlene Avakian (United States) serving as discussant.
Doris Melkonian (doctoral student at UCLA) presented a paper co-authored with her sister, Arda Melkonian (doctoral student at UCLA) titled "Armenian Women and Men Narrating Sexual Violence During the Armenian Genocide." Drawing upon the UCLA Collection of Armenian Genocide Survivor Memoirs, Melkonian analyzed gender differences in survivors' use of language when retelling stories of rape and sexual violence. Melkonian's close reading of the narratives underscores the importance of not only analyzing language but also paying close attention to the silences. While rape was a common occurrence during the Armenian Genocide, very little scholarly research has been conducted on this topic. Through their research, the Melkonians strive to fill this void.
Anna Aleksanyan (researcher at the Armenian Genocide Museum Institute in Yerevan) presented the complex post-Genocide situation of Armenian women who had converted to Islam. Her paper, "The Gender Issue: The Dilemma of Re-Armenianization of Armenian Women after the Genocide" dealt with the difficult task of bringing Islamized Armenian women back into the Armenian community and to their roots. Aleksanyan highlighted the role of Danish missionary, Karen Jeppe, who worked relentlessly towards this end in Aleppo, Syria. Despite efforts to rescue Islamized Armenian women, many chose to not return to the Armenian community and to remain with their Arab/Kurd/Turk husbands due to the intense shame they felt.
Hourig Attarian (post-doctoral fellow at Concordia University) shared her research on Armenian women who led double lives after the Genocide. In her paper, "Storying Narratives of Silences and Secrets in the Aftermath of Genocide," Attarian incorporates material from the AGBU central archives in Aleppo. Marginal notes written after each ledger entry provide insight into these women's lives. Attarian wove into her presentation moving accounts of her own family members, describing the joy, and later, anguish they experienced as they found, and then lost touch of an aunt.
Ayse Gül Altinay (professor at Sabanci University) discussed Armenian Islamized women in Turkey in her presentation, "Gendered Silencing of Islamized Armenians." Altinay estimates that there were as many as two hundred thousand Armenian women who had been Islamized after the Genocide. Unfortunately, there is scant research on this subject, partly because Islamized Armenian women were considered "lost" and therefore, no longer Armenian. The grandchildren of Islamized Armenians are now surfacing in Turkish society, and thus, challenging notions of ethnic and cultural identity for both Turkish and Armenian nationalists.
Arlene Avakian (retired professor), discussant for this panel, highlighted the unifying themes in each of the papers, seamlessly connecting the papers to each other.